Please join me in welcoming Travis Losey, MD to the AUPN in his new role as Chair of the Department of Neurology at Loma Linda University. Dr. Losey obtained his MD from Loma Linda University School of Medicine, followed by an internship in Internal Medicine and a residency in Neurology at Loma Linda University Medical Center. He then completed a fellowship in Epilepsy and Clinical Neurophysiology at the Barrow Institute. After completion of his training, he returned to Loma Linda as faculty, rising to become Director of the EEG Laboratory, Co-Director of the Epilepsy Center and Vice Chair of the Department, as well as Assistant Chief Medical Officer of the SAC Health System.
Keeping your faculty happy is one of the secrets of becoming a successful chair, but this can be particularly challenging in the modern academic environment. This month's AUPN Leadership Minute, Happy Faculty-Happy Life: Improving Faculty Satisfaction is presented by Dr. Susan Matulevicius (UT Southwestern) and moderated by Dr. Muhammad "Mud" Alvi (West Virginia University). In this episode, Dr. Matulevicus presents several strategies for achieving this goal, including how to truly listen to faculty and value their contributions, and how to make them feel involved in departmental decision-making.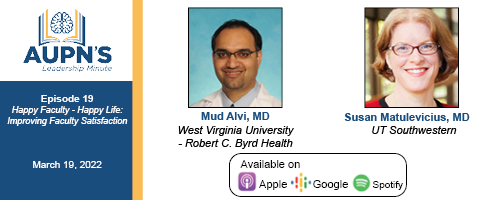 As the COVID pandemic finally wanes, in-person academic and medical meetings are returning at last. The in-person American Neurological Association meeting will be held, in conjunction with our fall AUPN meeting sessions in Chicago this October, and the ANA 2022 Call for Abstracts is now open. All accepted abstracts will be published in the Annals of Neurology, the flagship journal of the ANA.
The American Association of Medical Colleges (AAMC) meeting will also return in person this November in Nashville, and nominations for the annual AAMC Awards is now open. The AAMC Awards spotlight significant advances in education, research, clinical care, and community engagement and include the Alpha Omega Alpha Robert J. Glaser Distinguished Teacher Award and the Arnold P. Gold Foundation Humanism in Medicine Award. For a full list of awards and deadlines visit: www.aamc.org/awards.
Finally, save the date for AUPN's Spring/Summer Educational Series, which will consist of the New Chairs Round Table (Friday, May 6th); Spring Chairs Session: Simulations for Training in Neurology (Friday, May 13th); and Women Leaders in Neurology (Friday, June 10th). All sessions will be held virtually from 3pm-5pm ET.
Clifton L. Gooch, MD
AUPN President