AAMC Announces Next President and CEO & Nominate your Colleagues for an ANA Award!
5841 Cedar Lake Rd., Suite 204
Minneapolis, MN 55416
(952) 545-6724
neuro@aupn.org
From the President of the AUPN
AAMC Announces Next President and CEO
David J. Skorton, MD, secretary of the Smithsonian Institution, has been selected as the next president and CEO of the Association of American Medical Colleges (AAMC). His appointment will take effect on July 15, 2019. A board-certified cardiologist, president emeritus of Cornell University, past president of the University of Iowa, and member of the National Academy of Medicine, Skorton was selected after a yearlong, nationwide search.
Click here to read the full press release.
---
Nominate your Colleagues for an ANA Award
Recognize the exceptional work of your peers, students, and colleagues by nominating them for a prestigious ANA award! From extraordinary achievements in basic science to excellence in teaching, ANA awards celebrate the accomplishments of academic neurologists in a wide range of areas.
Click here to learn more about the awards that will be presented at the 2019 ANA Annual Meeting in St. Louis and submit your nomination today.
DEADLINE: March 29, 2019
---
Chairs, please don't forget to pay your 2019 dues! Details regarding what your dues covers and information on how to renew can be found here.

---
AUPN/ANA Survey Reminder!
A joint AUPN/AAN Survey was sent to all departments of Neurology on Monday, 1/7/2019 to assess the financial health of Departments of Neurology. Please take the time to complete it! The information will help us track changes over time (Last survey was done slightly over 10 years ago) and hopefully better argue our value to our Deans and Health Care Systems.
---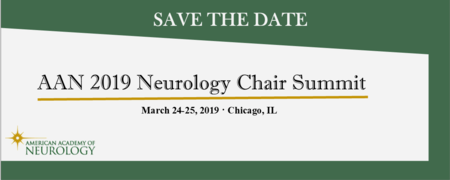 The American Academy of Neurology's (AAN) 2019 Neurology Chair Summit will be held March 24-25, 2019 in Chicago, IL. If you have questions regarding the AAN Chair Summit, please contact Susan Rodmyre, Senior Director, Education and Research at the AAN via email: srodmyre@aan.com.
---
Robin Brey, MD
AUPN President
---
The following organizations are seeking to fill the following leadership positions:
MEDICAL UNIVERSITY OF SOUTH CAROLINA COLLEGE OF MEDICINE: CHAIR OF THE DEPARTMENT OF NEUROLOGY
HOWARD UNIVERSITY: CHAIR, DEPARTMENT OF NEUROLOGY
---
2019 Association of University Professors of Neurology