Tracy Batchelor, MD, MPH, appointed chair of the Department of Neurology at Brigham Health
5841 Cedar Lake Rd., Suite 204
Minneapolis, MN 55416
(952) 545-6724
neuro@aupn.org
From the President of the AUPN
Tracy Batchelor, MD, MPH, joined Brigham Health as neurologist-in-chief on Dec. 1, 2018.

Dr. Batchelor comes to Brigham Health from Massachusetts General Hospital (MGH), where he has served as executive director of the Stephen E. and Catherine Pappas Center for Neuro-Oncology and chief of the Division of Neuro-Oncology at Mass General Cancer Center.
His primary field of clinical expertise relates to the therapy of malignancies of the central nervous system and neurologic complications of cancers. He has published extensively on the subject and has been a primary investigator on innovative clinical trials, both nationally and internationally.
Brigham Health President Betsy Nabel, MD, said Batchelor's leadership in the field, for which he has received multiple accolades, makes him the best choice to lead Neurology.
"I am confident that he will build on the already outstanding reputation of our neurology program by enriching our high-quality patient care, driving research that leads to innovations in treatments and cures for neurologic diseases, and training the next generation of clinicians," said Nabel.
Batchelor received his medical degree from Emory University School of Medicine and his master's in public health from the Harvard T.H. Chan School of Public Health. He completed his medicine internship, neurology residency and neuro-oncology fellowship at Yale-New Haven Hospital, MGH and Memorial Sloan-Kettering Cancer Center, respectively.
Please join me in congratulating Dr. Batchelor in his new role.
---
Chairs, please don't forget to pay your 2019 dues! Details regarding what your dues covers and information on how to renew can be found here.

---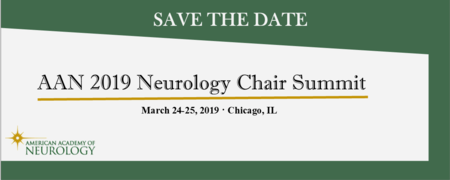 The American Academy of Neurology's (AAN) 2019 Neurology Chair Summit will be held March 24-25, 2019 in Chicago, IL. If you have questions regarding the AAN Chair Summit, please contact Susan Rodmyre, Senior Director, Education and Research at the AAN via email: srodmyre@aan.com.
---
Robin Brey, MD
AUPN President
---
The following organizations are seeking to fill the following leadership position
MEDICAL UNIVERSITY OF SOUTH CAROLINA COLLEGE OF MEDICINE: CHAIR OF THE DEPARTMENT OF NEUROLOGY
HOWARD UNIVERSITY: CHAIR, DEPARTMENT OF NEUROLOGY
---
2019 Association of University Professors of Neurology