AAN Seeking Candidates for Editorship of Neurology Family of Journals & ANA Call for Abstracts
5841 Cedar Lake Rd., Suite 204
Minneapolis, MN 55416
(952) 545-6724
neuro@aupn.org
From the President of the AUPN
Neurology, the flagship journal of the American Academy of Neurology (AAN), is seeking candidates to assume the Editor-in-Chief position in 2020 when the current Editor, Robert A Gross, officially ends his term. Under Dr. Gross' leadership, the AAN's flagship journal has evolved from a single title to a strongly branded main journal with 3 subspecialty journals in the areas of clinical practice, neuroimmunology and neuroinflammation, and neurogenetics. In addition, the journal contains an enthusiastic online-only Resident & Fellow Section, a podcast program, and two ancillary online sites featuring articles and blogs on international neurology and health services research.
Click here to view the Editor-in-Chief job description.
An information sheet describing the Neurology journals can be found here.
Proposals should be addressed to the Neurology Editor-in-Chief Search Committee and emailed to Patty Baskin, Executive Editor of the Neurology journals, with the subject heading Editor-in-Chief Position Proposal.
Due date for proposals is April 1, 2019
---
Abstract submissions for ANA2019 are now open! The ANA is requesting that you please forward this email to your students, residents, post-docs, and early career faculty and encourage them to submit an abstract to ANA2019 for the opportunity to:
Present their work to 800+ leading neurologists and receive feedback
Learn about a career path in academic neurology
Compete for travel awards and the chance to present during a plenary session
For more information and to submit an abstract, please click here.
DEADLINE: Tuesday, April 2, 2019
---
Chairs, please don't forget to pay your 2019 dues! Details regarding what your dues covers and information on how to renew can be found here.

---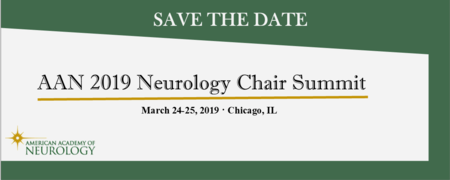 The American Academy of Neurology's (AAN) 2019 Neurology Chair Summit will be held March 24-25, 2019 in Chicago, IL. If you have questions regarding the AAN Chair Summit, please contact Susan Rodmyre, Senior Director, Education and Research at the AAN via email: srodmyre@aan.com.
---
Robin Brey, MD
AUPN President
---
The following organizations are seeking to fill the following leadership positions:
MEDICAL UNIVERSITY OF SOUTH CAROLINA COLLEGE OF MEDICINE: CHAIR OF THE DEPARTMENT OF NEUROLOGY
HOWARD UNIVERSITY: CHAIR, DEPARTMENT OF NEUROLOGY
---
2019 Association of University Professors of Neurology