*New & Improved* AUPN Chairs Discussion Forum
5841 Cedar Lake Rd., Suite 204
Minneapolis, MN 55416
(952) 545-6724
neuro@aupn.org
From the President of the AUPN
New & Improved Chairs Discussion Forum
Dear AUPN Chairs,
One of the benefits of membership in the AUPN is that you are able to participate in a forum which offers quick and easy access to all Chairs of Academic Neurology Departments to hold private, collaborative group discussions around any topics that are important to you. In the past, this discussion forum has been offered through a Chairs Google Group which required a Gmail email address for access to the forum.
The AUPN Council has approved a new format for the Chair's Discussion Forum which will allow you to use your institutional email as well as provide easier access via the AUPN website! The forum works similar to the Google Group and will continue to be exclusively for Chairs of Academic Neurology Departments. Benefits of the new forum include:
Access to the forum via the AUPN website

Use of your institutional email instead of a Gmail address

Ability to create polls and upload photos in a thread

Notification when a new topic is posted in the forum with the ability to subscribe to the discussion threads of interest

Automatic access to the forum provided your institutional email is current
To access the forum, please go to www.aupn.org and hover over the Members Only tab and click on the Chairs Discussion Forum subtab. From there, you can post or reply to a thread and continue to hold private, collaborative group discussions around any topics that are important to you.
**Please note: The first time you access the forum, you will be asked to create a profile. It is suggested that you change your username to FirstName LastName: Institution and check the boxes so you are notified when you receive a private message and are automatically subscribed to threads to which you post.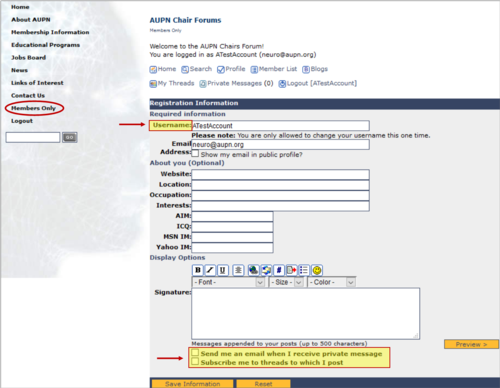 If you have questions regarding the forum, please email neuro@aupn.org
Sincerely,
---
Robin Brey, MD
AUPN President
---
The following organizations are seeking to fill the following leadership position
University of Mississippi Medical Center: Chair, Department of Neurology
If you have a current job posting you would like listed on the AUPN website, please complete the Job Listing Form and submit it to the AUPN Executive Office at neuro@aupn.org.
To View Current Job Postings, click here
---
If you have news that you want to share with members of the
Association for University Professors of Neurology, please send it to us at neuro@aupn.org
---
To opt out of AUPN emails, contact the AUPN Executive Office at neuro@aupn.org
2018 Association of University Professors of Neurology