New Chair at Houston Methodist Hospital/UT Houston
Please join me in congratulating Dr. Jun Li, MD, PhD, who was appointed Chair of the Stanley H. Appel Department of Neurology at the Houston Methodist Hospital, effective on June 1, 2022.
Dr. Li most recently served as Professor and Chair of the Department of Neurology at Wayne State University (WSU), where he was also Specialist-in-Chief of Neurology at the Detroit Medical Center and Scientific Director of Translational Neuroscience Initiatives.
Dr. Li spent the first nine years of his faculty career at WSU, followed by nine years at Vanderbilt University before taking on the chair position at WSU in 2018. As a physician-scientist, he subspecializes in peripheral nerve diseases and myelin biology. His laboratory has been continuously funded by NIH since 2004. He has published more than 90 articles in peer-reviewed journals and numerous book chapters. These contributions earned him the Wolfe Research Prize from the American Neurological Association in 2014.
In addition to his own work, Li has a passion for mentoring students, post-doctoral scientists, and junior faculty. Many of his trainees have become independent investigators in academic institutions.
He is a newly elected councilor of AUPN and a current member of the American Neurological Association Board of Directors. He has also served as a member of the Scientific Advisory Board for the Muscular Dystrophy Association and the Charcot-Marie-Tooth Association, and the scientific committee of the Peripheral Nerve Society. He has been a member of NIH study sections for more than a decade.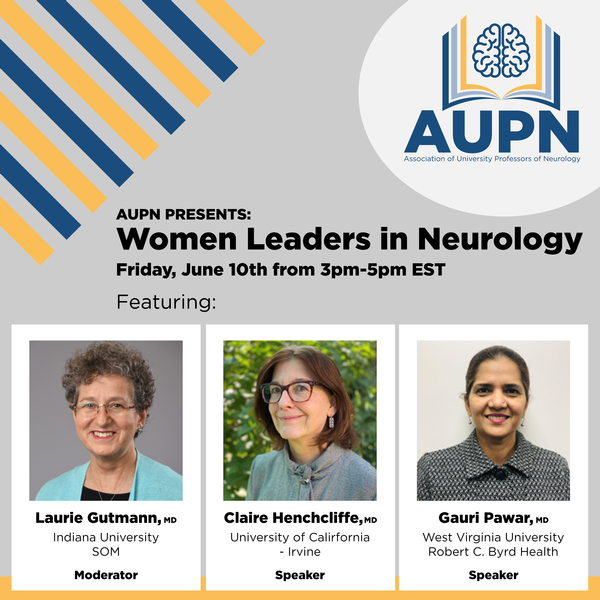 AUPN Women Leaders Program
Our 2nd Annual Women Leaders in Neurology session was held on Friday, June 10, hosted by Dr. Laurie Gutmann, Chair of Neurology at Indiana University. Speakers included Dr. Claire Henchcliffe, Chair of Neurology the University of California, Irvine, and Dr. Gauri Pawar, Vice Chair for Education and Residency Program Director at West Virginia University School of Medicine. This session had an outstanding 29 attendees and featured lively discussions of a variety of challenges facing women leaders in neurology, including reluctance to self-promote accomplishments, imposter syndrome, family obligations, being spoken-over, ignored or "man-splained", and reluctance to ask for what you need and deserve. Panelists and participants spoke highly of the importance of support networks and "mentorship pods." A recording of the session is available on our AUPN website.
DEI Funding Opportunity
The NIH FIRST program was created to enhance diversity and inclusion, as well as institutional culture change at NIH-funded institutions. Fostering inclusive environments that cultivate and benefit from a full range of talents will ensure that the most talented researchers are recruited, supported, and advanced to become competitive research investigators. This funding opportunity aims to support cohorts of early-career scientists committed to diversity and inclusive excellence.
You can find more information at the program announcement: RFA-RM-22-008: NIH Faculty Institutional Recruitment for Sustainable Transformation (FIRST) Program: FIRST Cohort (U54 Clinical Trial Optional). Applications are due July 12, 2022.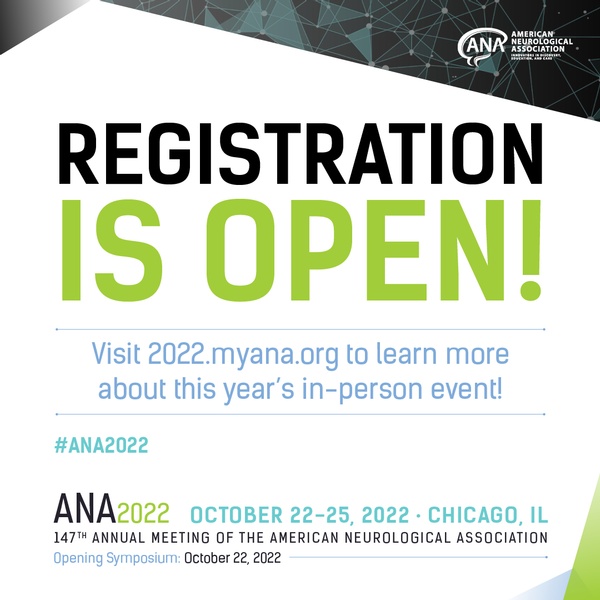 Save the date for the AUPN Fall Sessions – More Details to Come Soon!
While it is still early summer, it is not too early to start planning for the AUPN's Fall Education Programs, which will be held at the American Neurological Association Annual Meeting. This year's ANA meeting will be in-person for the first time in 2 years, at the Hyatt Regency Chicago in Chicago, IL from October 22 – 25, 2022. Registration is now open. We will host the following AUPN sessions at the ANA Annual Meeting:
Fall Chairs Sessions (three in total)
Networking Session for Small Academic Departments of Neurology
ANA-AUPN Meet the Chairs Session
ANA-AUPN Career Fair
We will provide more detail on these sessions in next month's Newsletter.
We will also host a Virtual Workshop for VA Neurology Directors this fall, at a date and time to be determined. This will be our second workshop for VA Directors and should help those in that position with the specific challenges of working in the VA environment.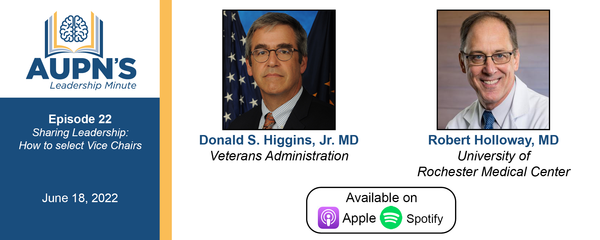 Leadership Minute
A new AUPN Leadership Minute has been posted for June 2022, entitled "Sharing Leadership -How to Select Vice-Chairs." This month's session, hosted by Dr. Donald Higgins, features Dr. Robert Holloway, Chair of Neurology at the University of Rochester Medical Center in Rochester, NY. Dr. Holloway provides the rationale and strategies for choosing Vice-Chairs, focusing on how to develop, recruit and nurture this team for success. As departments of neurology become more administratively complex, one of the most important factors in the success of a Chair is the skill and strength of the Vice Chair leadership team. Effective delegation of authority can help develop the careers and talents of your faculty in addition to extending your capabilities as chair.
Strategic Goals Update
A goal of our 2022 Strategic Plan is to enhance participation and engagement of faculty and emerging leaders within your departments, as well as improving recognition of AUPN more broadly in the Neurology community. One way to accomplish this is to share this newsletter with others in your department. While actual AUPN membership is focused on specific departmental roles, including Vice Chairs, Research Directors, Residency Program Directors, Clerkship Directors, Child Neurology Directors and VA Directors, many of the programs we sponsor, such as the Leaderships Minutes and podcasts, can benefit many within your department. Feel free to forward to your faculty email list!
L. John Greenfield, Jr, MD PhD
AUPN President
AUPN encourages you to forward his newsletter to other faculty in your
department, or anyone else who might benefit from our programs.