Please join me in welcoming Uma Menon, MD, MBA to the AUPN in her new role as Chair of Neurology at the Morehouse School of Medicine. Dr. Menon completed her medical training in India followed by a residency in Neurology at Louisiana State University, a fellowship in Clinical Neurophysiology at the Cleveland Clinic, a second fellowship in Epilepsy at Yale, and an MBA in Healthcare Management from George Washington University. She has served as faculty and Residency Training Program Director at Tulane, and also as faculty at Ochsner Medical Center. She has a major focus on medical ethics, physician and patient advocacy, equity and social justice, and is the Chair of the ANA Education section of the IDEAS (Inclusion, Diversity, Equity, Anti-Racism and Social Justice) and Vice-Chair of the Medical Ethics Section of the AAN.
One of the major keys to being a successful Chair is learning how to appropriately delegate, as the administrative burden of running a modern Neurology Department simply can't be handled by the Chair alone. New Chairs often struggle with how, when and to whom responsibilities should be delegated, as well as how to maintain the success of the division of labor over time. This month's AUPN Leadership Minute, Keeping Your Sanity Through Delegation is presented by Dr. John Greenfield (University of Connecticut) and moderated by Dr. Don Higgins (Veterans Administration) presents delegation strategies which will improve departmental performance and make your job as Chair easier and more efficient.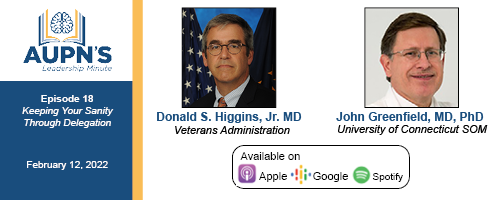 Our highly successful 2022 virtual Winter Program series drew to a close last Friday with the Clerkship Director's Workshop, which focused on new trends in the evaluation of medical students during the neurology clerkship. Panelists from the Netherlands, Harvard and UCSF shared their novel assessment paradigms, which are increasingly striving to again recognize and properly weight those critical qualitative humanistic qualities which are essential for being a good physician (vs. the more easily measured metrics provided by traditional exams). I would like to thank the speakers and moderators for a terrific program, as well as the audience participants for their robust contributions during the round table discussion. We also again thank all those who participated in the Department Chairs and Program Directors Forum and the Program Directors Workshop for their outstanding work and stimulating discussions. For those who were unable to attend, recordings of these sessions, as well as the PowerPoint files, are available on the AUPN Website in the below Resource Links.
The American Neurological Association is one of the AUPN's most collaborative and aligned partners, and most Chairs are members of both organizations. In our ever-busier lives, it is always important to understand the return on investment provided by the many neurological organizations currently available. To this end, the ANA has prepared a summary slide set, which concisely outlines the major benefits of ANA membership This will be a valuable resource for Chairs considering ANA members for themselves and for their faculty.
Clifton L. Gooch, MD
AUPN President