Andrei Alexandrov named Chair at University of Arizona College of Medicine
Andrei Alexandrov, MD, has joined the University of Arizona College of Medicine – Phoenix as chair of the Department of Neurology. Dr. Alexandrov specializes in the development of novel reperfusion therapies for stroke. Prior to joining the college, he served as chair of the Department of Neurology and Semmes-Murphey Professor at the University of Tennessee Health Science Center. In his role as medical director of the University of Tennessee Mobile Stroke Unit, he led the organization to become the first in the world with a state-of-the-art computed tomography (CT) scanner performing head and neck computed tomography angiography. In his time in Tennessee, he directed the Memphis city-wide Stroke Program, which achieved and sustained the highest treatment rates with alteplase (tPA) from 2015 to 2021.
Throughout his career, Dr. Alexandrov has made significant contributions to esteemed neurologic communities, including his role as an active elected member of the American Neurological Association. In addition, he served as director of the Neurosonology Examination (1998-2018); as president of the American Society of Neuroimaging (2019-2021); as a board member of the Intersocietal Accreditation Commission (2013-2020); as the founding editor-in-chief (2011-2015) of Brain and Behavior; as an editorial board member of Stroke, Cerebrovascular Diseases, the International Journal of Stroke and the Journal of Neuroimaging; and as a member of the Society of Vascular and Interventional Neurology board of directors, as well as in the program committee for the International Stroke Conference, American Heart Association.
Dr. Alexandrov has secured a patent and published more than 315 original papers. He has trained 57 fellows in stroke and cerebrovascular ultrasound. Dr. Alexandrov received his training in neurology, cerebrovascular ultrasound and stroke in Moscow, Toronto and Houston.
Please welcome Dr. Alexandrov to the AUPN in his new role.

Call for Volunteers to participate on AUPN Program Committee
Are you passionate about advancing the field of neurology and contributing to the growth of academic knowledge? AUPN seeks one (1) dedicated individual to join our Program Committee. The Program Committee has the ability to propose and slate educational programming and content throughout the year. Specifically, the Program Committee focuses on identifying topics and speakers for the Spring and Fall AUPN Chair Sessions. All members of the Association in good standing can volunteer to serve on the Committee.
The term would be from April 1, 2024 – March 31, 2028 with the opportunity to serve a second term. If interested, please complete this form by November 5th. Join us in our mission to make a meaningful impact on the field of neurology by volunteering for the AUPN Program Committee today!

AUPN Fall Sessions at the ANA
AUPN activities were well-represented at the annual ANA meeting last month from September 10 – 12 in Philadelphia, PA. Our 3 Chair-level symposia included:
"Advanced Practice Providers and How They Fit into Neurology," moderated by Rich O'Brien (Duke Univ.) with speakers Aashit Shah (Carilion Clinic/Virginia Tech), Dane Chetkovich (Vanderbilt), Salvador Cruz-Flores (Texas Tech Univ. at El Paso) and Gwenn Garden (Univ. of North Carolina) provided excellent information on how APP's are currently utilized in academic neurology practices, how they are trained, and how to help these essential providers thrive.
Our session on "Neurology in the Multi-Centered World: Teaching on Multiple Campuses," moderated by Larry B. Goldstein (Univ. of Kentucky) included guest speakers Catherine Ikard (Univ. of Alabama) and Kimberly Jones (Univ. of Kentucky), and reviewed strategies to meet LCME requirements based on practical examples and discussed the educational challenges of having Neurology clerkships across regional campuses.
The final session on "Title IX for Neurology Chairs," organized by Michel Torbey (Univ. of New Mexico) and moderated by John Greenfield (Univ. Connecticut) featured speakers Paul A. Garcia (UCSF) and Anita Raj, (UCSD) and focused on how to address and prevent sex discrimination with your department, and how to foster a culture of inclusion and respect.
Links to the recordings of the above sessions are available under the Resources section of this email.
The AUPN Networking Session for Small Academic Neurology Departments was organized by Aashit K. Shah (Carilion/Virginia Tech) and garnered a small but enthusiastic audience.

Save the Date! 2024 Webinar on Balancing Fulfillment and Career
Join Jessica G. Moreland (UT Southwestern) on Friday, January 26, 2024 from 3pm - 3:45pm ET as she presents this webinar, which focuses on helping participants recognize their own avenues for a healthy and long career. Fulfillment is defined and discussed, recognizing that each faculty member will have a different sense of what fulfillment actually means.
Please register here to attend. This webinar is complimentary and open to all members.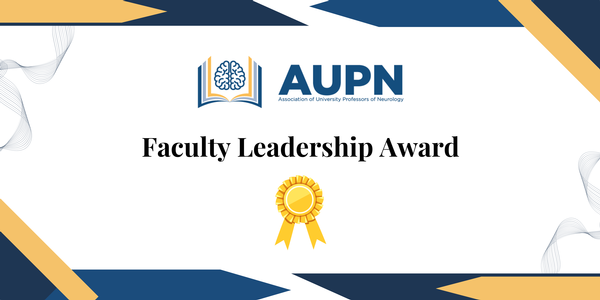 Nominations Open for the AUPN Leadership Award
Nominations are now open for the new annual AUPN Faculty Leadership Award, which recognizes individual faculty members in each member department who have shown outstanding leadership skills. A single candidate from each department can be nominated by the chair, and nominations will be reviewed by the Awards Committee of the AUPN Council. To be eligible for this award, faculty must currently hold one the following leadership positions: Residency Program Director, Clerkship Director, Child Neurology Residency Program Director, Research Program Director, VA Chief, Vice Chair, or Division Chief. The award cannot be given to the same person twice within a 5-year span.
Chairs - Please submit your nomination by December 31st, 2023. Awardees will be formally announced by April 30th, 2024. The awardees will be invited to accept their awards and a printed certificate during the AUPN Business Meeting/Awards Ceremony during the AUPN Satellite Meeting on Saturday, September 14th, 2024, in conjunction with the American Neurological Association (ANA) Annual Conference. Awardees will receive complimentary meeting registration to the AUPN Satellite Meeting.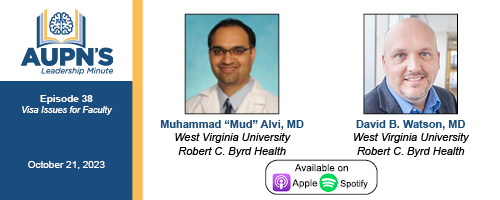 Leadership Minute
This month's Leadership minute, introduced by Muhammed "Mud" Alvi (W. Virginia Univ.) and presented by David B Watson (Chair, W. Virginia University) is entitled "Visa Issues for Faculty". Following up on last month's presentation by Dr. Erica Schuyler, this month's program focuses on navigating the immigration process for recruiting foreign-trained faculty. Obtaining the correct documentation to work in a training capacity in the US as they enter our residency programs is often complex, and you should rely on experts to guide you through the process.

Virtual Office Hours
The next monthly AUPN Virtual Office Hours will be on Wednesday, November 15th at 12pm PT/ 2pm CT/3pm ET, and will be hosted by Dr. Laurie Gutmann, Chair of the Department of Neurology at the Indiana University SOM. Dr. Gutman will be available to discuss areas including clinical research, mentoring and faculty development programs, strategic planning, & education.
If you are interested in attending, please see our website or email the AUPN Executive Office at neuro@aupn.org and we will send you a calendar invite and link.

Neurotherapeutics Discovery and Development Course
Applications are now being accepted for the 2024 Training in Neurotherapeutics Discovery and Development for Academic Scientists Course. The course will be held March 12 - 15, 2024 at the Hyatt Regency Bethesda in Bethesda, Maryland. The deadline for applications is November 30, 2023.
Application is FREE and registration, travel, and lodging costs are fully covered for accepted applicants. This NIH-sponsored program teaches academic neurologists the principles of drug discovery and development and how neurotherapeutic drugs are discovered, characterized and tested so that they can enter clinical trials.
To review the application criteria and apply online, visit: http://ndd.ucdavis.edu/
Until next month,
L. John Greenfield, Jr, MD PhD
AUPN President
AUPN encourages you to forward this newsletter to other faculty in your department, or anyone else who might benefit from our programs.
Open Neurology Leadership Positions