Thomas Lloyd Appointed Chair of Neurology at Baylor College of Medicine
Dr. Thomas Lloyd, an expert in amyotrophic lateral sclerosis (ALS) and other neuromuscular disorders such as inclusion body myositis, motor neuropathies and muscular dystrophies, has been named the Chair of the Department of Neurology at Baylor College of Medicine effective November 1, 2023.
Lloyd earned a BA in chemistry and biochemistry from Rice University and is a graduate of the MD/PhD Program at Baylor, with PhD studies in molecular and cellular biology. He then completed postdoctoral work, residency and fellowship training in neurology and neuromuscular medicine at Johns Hopkins Hospital. He subsequently joined the faculty at Johns Hopkins University and rose through the ranks to Professor at Johns Hopkins Bayview Medical Center, where he co-directed the Johns Hopkins Myositis Center and led the neuromuscular clinical trials unit and neuromuscular pathology laboratory.
His research interests include understanding the mechanisms of motor neuron degeneration using genetic model systems and developing genetic and pharmacologic screens to identify novel drug targets for motor neuron diseases. He has published in high impact journals including Cell, Neuron, Nature, Science Translational Medicine and Neurology.
Please congratulate Dr. Lloyd and welcome him to the AUPN. Eli Mizrahi, the previous chair at Baylor, has been appointed as Associate Dean of Clinical Affairs at Baylor, and we congratulate him on this new responsibility.

Call for Volunteers to participate on AUPN Program Committee
Are you passionate about advancing the field of neurology and contributing to the growth of academic knowledge? AUPN seeks one (1) dedicated individual to join our Program Committee. The Program Committee has the ability to propose and slate educational programming and content throughout the year. Specifically, the Program Committee focuses on identifying topics and speakers for the Spring and Fall AUPN Chair Sessions. All members of the Association in good standing can volunteer to serve on the Committee.
The term would be from April 1, 2024 – March 31, 2028 with the opportunity to serve a second term. If interested, please complete this form by November 30th. Join us in our mission to make a meaningful impact on the field of neurology by volunteering for the AUPN Program Committee today!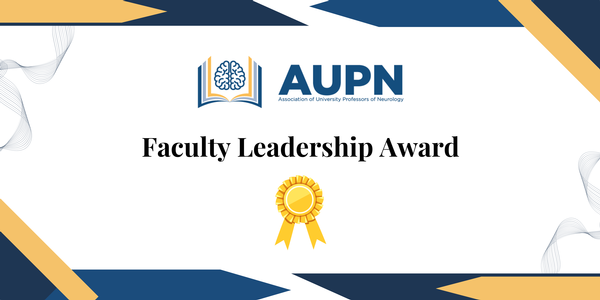 Nominations Open for the AUPN Leadership Award
Please act now to nominate a deserving faculty leader in your department for the annual AUPN Faculty Leadership Award, which recognizes individual faculty members in each member department who have shown outstanding leadership skills. To be eligible for this award, faculty should hold one the following leadership positions: Residency Program Director, Clerkship Director, Child Neurology Residency Program Director, Research Program Director, VA Chief, Vice Chair, or Division Chief. Other faculty may also be appropriate for the award if supported with a detailed rationale by the nominating chair.
Chairs - Please submit your nomination by December 31st, 2023. Awardees will be formally announced by April 30th, 2024. The awardees will receive complimentary meeting registration to the AUPN Business Meeting/Awards Ceremony during the AUPN Satellite Meeting on Saturday, September 7th, 2024, in conjunction with the American Neurological Association (ANA) Annual Conference.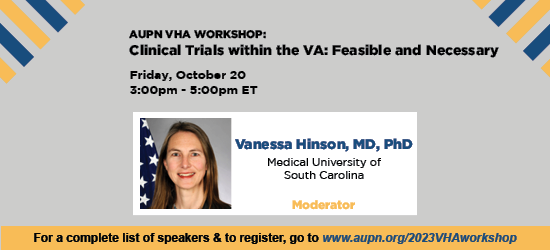 VA Chiefs Workshop: Clinical Trials at VA Hospitals
This year's AUPN VA Chiefs Workshop on October 20 discussed "Clinical Trials within the VA: Feasible and Necessary." The on-line symposium was moderated by Vanessa Hinson (MUSC) with guest speakers John Duda (Michael J. Crescenz VA Medical Center), Olga Brawman-Mintzer (Ralph H. Johnson VA Medical Center), Rebecca Walker (VA Puget Sound) and Colin Quinn (Michael J. Crescenz VA Medical Center). Speakers explained how to conduct industry-sponsored research within VA and reviewed the feasibility of conducting clinical trials within the VA health care system and the VA Cooperative Studies Program. The program was well attended with 22 participants from VA systems throughout the country. Slides and a recording of the session are available on the AUPN website.

Virtual Office Hours
Over the past few months, volunteer chairs have hosted AUPN's monthly "Virtual Office Hours," a forum to discuss topics important to chairs and other members of the AUPN community in a non-structured, flexible format. The idea was that chairs and others facing thorny administrative, educational, research or clinical problems could discuss them in this setting and perhaps find new ideas for their departments. Despite our best intentions, attendance was low, and we have elected to discontinue this program for now. If you have suggestions about how to meet these goals in another way, please email the AUPN Executive Office at neuro@aupn.org with your ideas.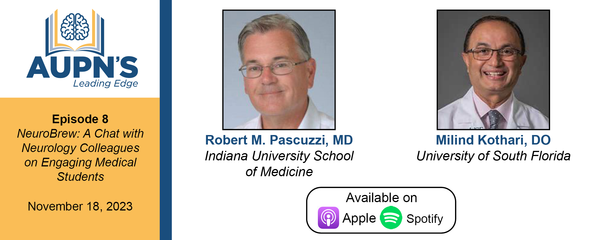 Leading Edge Podcast
Our latest AUPN Leading Edge Podcast is entitled "NeuroBrew: A Chat with Neurology Colleagues on Engaging Medical Students." Presented by Milind Kothari, Assoc Dean & Vice Chair in the Department of Medical Education, University of South Florida, and introduced by Robert Pascuzzi (Indiana University), this podcast will explore how to create a remarkable educational environment for medical students and residents and galvanize young physicians to practice, research, and teach in this noble profession. Dr. Kothari's secrets are revealed!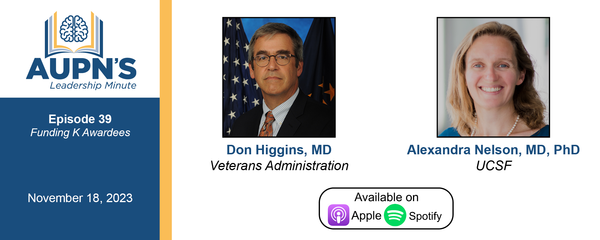 Leadership Minute
This month's leadership minute, presented by Alexandra Nelson (UCSF) and introduced by Donald Higgins (Albany Medical College) explores the various methods departments have used for "Supporting K Awardees." K awardees may be postdoctoral awardees or run their own laboratory, but the NIH award does not cover their salary or fully support personnel and laboratory expenses. Protecting their time for research and providing mentorship are critical to allow them to develop an impactful research program. Creating networks of K awardees, connecting them with resources and providing career advice will help them find career success.

Save the Date! 2024 Webinar on Balancing Fulfillment and Career
Join Jessica G. Moreland (UT Southwestern) on Friday, January 26, 2024 from 3pm - 3:45pm ET as she presents this webinar, which focuses on helping participants recognize their own avenues for a healthy and long career. Fulfillment is defined and discussed, recognizing that each faculty member will have a different sense of what fulfillment actually means.
Please register here to attend. This webinar is complimentary and open to all members.

Neurotherapeutics Discovery and Development Course
Applications are now being accepted for the 2024 Training in Neurotherapeutics Discovery and Development for Academic Scientists Course. The course will be held March 12 - 15, 2024 at the Hyatt Regency Bethesda in Bethesda, Maryland. The deadline for applications is November 30, 2023.
Application is FREE and registration, travel, and lodging costs are fully covered for accepted applicants. This NIH-sponsored program teaches academic neurologists the principles of drug discovery and development and how neurotherapeutic drugs are discovered, characterized and tested so that they can enter clinical trials.
To review the application criteria and apply online, visit: http://ndd.ucdavis.edu/
Until next month,
L. John Greenfield, Jr, MD PhD
AUPN President
AUPN encourages you to forward this newsletter to other faculty in your department, or anyone else who might benefit from our programs.
Open Neurology Leadership Positions