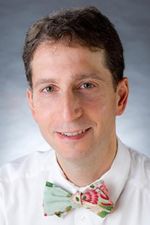 Elan D. Louis, M.D., M.S., has been named the Chair of the Department of Neurology and Neurotherapeutics at UT Southwestern. He started the position on April 15, 2020 and holds the Linda and Mitch Hart Distinguished Chair in Neurology.
Dr. Louis joins UT Southwestern from the Yale School of Medicine, where he is Professor of Neurology and of Epidemiology (Chronic Diseases), Chief of the Division of Movement Disorders, Associate Chair for Outpatient Research in Neurology, and Co-Director of the Center for Neuroepidemiology and Clinical Neurological Research.
Considered by many to be the leading scholar in the world on essential tremor (ET), Dr. Louis has conducted pioneering investigations to uncover significant new knowledge on the epidemiology, genetics, and underlying pathology of ET, one of the most common neurological disorders. His innovative studies have challenged many common understandings of ET and have meaningfully shifted the predominant discourse among researchers in the field.
Dr. Louis has been continuously funded by the National Institutes of Health since 1995, and he has received over $28 million in total grant support from the NIH. He is the founder and principal investigator of the Essential Tremor Centralized Brain Repository, which was established in 2003 to collect and analyze brain tissue from ET donors, in order to examine the causes, processes, and development of neurological disorders.
A graduate of the University of Pennsylvania, Dr. Louis earned his medical degree from Yale School of Medicine. He completed his neurology residency at The Neurological Institute of New York at Columbia-Presbyterian Medical Center, followed by fellowships in movement disorders and neuroepidemiology at Columbia University Vagelos College of Physicians and Surgeons. He also obtained an M.S. degree in epidemiology from Columbia's Mailman School of Public Health. Dr. Louis joined the faculty at Columbia University in 1995, with dual appointments in the Vagelos College of Physicians and Surgeons and the Mailman School of Public Health. He became a Professor of Neurology and Epidemiology, and served as Associate Chair of Academic Affairs and Faculty Development in the Department of Neurology before being recruited to Yale in 2015.
Dr. Louis has authored more than 700 peer-reviewed scientific publications, book chapters, reviews, and case reports and also serves on the editorial board of more than 10 scientific journals. He is the founding editor-in-chief of Tremor and Other Hyperkinetic Movements and served as editor of the 13th edition, as well as the 14th edition currently in preparation, of Merritt's Neurology, a time-honored and premier textbook in the field of neurology.
As the Chair of our Department of Neurology and Neurotherapeutics, Dr. Louis will work synergistically with Dr. Dauer and his colleagues in the Peter O'Donnell Jr. Brain Institute to enhance programmatic development for various neurological conditions. Dr. Louis' background and leadership promise to further elevate UT Southwestern Medical Center as a national hub for excellence in neuroscience discovery and clinical care.
Please join me in congratulating Dr. Lewis in his new role.
---
Know an outstanding academic neurologist or neuroscientist?
Nominate them for an ANA Award!
Submission Deadline: June 1, 2020 11:59 PM PDT
This year's deadline has been extended to May 1 in response to the ongoing challenges posed by the COVID-19 pandemic.
ANA awards, presented at the Annual Meeting each fall, acknowledge the accomplishments of early- to mid-career academic neurologists, as well as exceptional educators in academic neurology and neuroscience.
The

Derek Denny-Brown Young Neurological Scholar

Award

, ANA's highest and most prestigious award, recognizes early- to mid-career neurologists and neuroscientists. This award honors those neurologists and neuroscientists in the first 10 years of their career at the assistant/associate faculty (equivalent) level who have made outstanding basic and clinical scientific advances toward the prevention, diagnosis, treatment, and cure of neurological diseases.
The

Distinguished Neurology Teacher

Award

was established in 1996 to recognize outstanding accomplishments in teaching neurology to residents and medical students. The purpose is to encourage efforts to recognize and reward contributions by gifted and talented teachers in neurology. Each Neurology Department in the U.S. and Canada is encouraged to nominate at least one individual each year.

The Grass Foundation -

ANA

Award

in Neuroscience

was established in 2007 to honor outstanding young investigators doing research in basic or clinical neuroscience.

The Grass Foundation

was established in 1955 by Albert and Ellen Grass to advance research and education in neuroscience, with a special focus on investigators early in their careers.
Click here to learn more about the awards that will be presented at the 2020 ANA Annual Meeting in Los Angeles and submit your nomination today.
---
Robin Brey, MD
AUPN President
---
AUPN Mission: To advance and strengthen the academic Neurology community through education, mentorship and the sharing of best practices among leaders in academic neurology.
AUPN Vision: To shape the future of neurology as the voice of its academic leaders.
---
The following organizations are seeking to fill the following leadership position
University of Texas Medical BranchVice Chair Neurology
Wake Forest University School of Medicine, Chair of Neurology