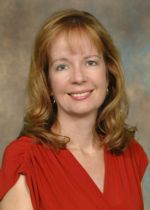 It is one of our great privileges at the AUPN to welcome new Chair member to our ranks, and we are pleased to announce that Dawn O. Kleindorfer, M.D., has been appointed chair of the Department of Neurology at the University of Michigan Medical School, effective May 1st.
Dr. Kleindorfer received her B.S. in biology from Indiana University, and completed her undergraduate medical education at Washington University, St. Louis, followed by a neurology residency at the University of Michigan, where she also served as Chief Resident, before completing a fellowship in Cerebrovascular Disease at the University of Cincinnati (UC). Upon completion of her training, she was recruited to the faculty of UC, where she rose to become Director of Vascular Neurology, and also Associate Dean of Faculty Development and Women's Initiatives.
She is an accomplished and respected researcher and leader in vascular neurology, with a research focus on stroke epidemiology and racial disparities. She has been continuously funded at the R01 level since 2006 and has produced more than 200 peer-reviewed publications. She serves as chair of the education core of the National Institutes of Health StrokeNet and is a fellow of the American Heart Association and a member of the Stroke Council of the American Stroke Association. She has received many awards for her work, including the American Neurological Association's Derek Denney-Brown Outstanding Neurological Clinical Research Scholar Award, the American Stroke Association International Stroke Research Mentor Award, and the UC Neurology Faculty Teacher of the Year award. She was one of 50 women faculty selected for the prestigious Executive Leadership in Academic Medicine (ELAM) program.
Please join me in congratulating Dr. Kleindorfer and welcoming her to the AUPN.
Clifton L. Gooch, MD
AUPN President
---
Today's Resource Links
ANA Webinars: COVID-19 and Neurological Research
A series of very recent webinars on Clinical and Basic Research during the COVID-19 Pandemic and Shutdown, with strategies for recovery
https://myana.org/education/ana-webinars
American Medical Association COVID-19 Physician Resource Page
Contains numerous resources, covering topics from telemedicine to reopening of clinical operations
https://www.ama-assn.org/delivering-care/public-health/covid-19-2019-novel-coronavirus-resource-center-physicians
AUPN 2014 to 2019 Chairs Sessions
Click on Year, find topic and speaker, click on "presentation" (member login required)
https://www.aupn.org/i4a/pages/index.cfm?pageid=3719