Mohamed Koubeissi Appointed Interim Chair at George Washington University
Mohamad Koubeissi, MD, MA, FAAN, FANA, FAES, has been selected to serve as Interim Chair of the George Washington University Department of Neurology and Rehabilitation Medicine. Dr. Koubeissi was previously the Director of the Epilepsy Center at the GWU School of Medicine and Health Sciences and led the annual GW Epilepsy Board Review Course, a very popular monthly live-streaming GW Epilepsy Seminar Series. Dr. Koubeissi earned the BS and MD degrees at American University of Beirut and a MA degree in English Literature at GWU. He pursued residency training in neurology at SUNY Upstate Medical University in Syracuse, NY and completed training at New York University, followed by fellowship in epilepsy at Johns Hopkins University in Baltimore, MD. He was on faculty at Case Western Reserve University in Cleveland, OH for 6 years before he joined the faculty at George Washington University in 2012.
In addition to being named Fellow of the AAN, ANA and AES societies, he has earned numerous honors, including the 2012 Innovation Award from the School of Engineering at Case Western for his research on deep brain stimulation in epilepsy. Dr. Koubeissi has lectured on the medical and surgical treatment of intractable epilepsy across the United States as well as in Europe, Latin America, and Asia. His research on consciousness and epilepsy was featured in a 2015 National Geographic documentary that aired around the world in more than 50 languages. He has published over 110 peer-reviewed papers and edited four books on epilepsy. Please welcome him to the AUPN!
Dr. Koubeissi succeeds Dr. Henry Kaminski, a past president of the AUPN who steps down after 12 years as chair at GWU. Dr. Kaminski will continue his clinical and translational research program in myasthenia gravis as well as directing the NIH Rare Disease Network on Myasthenia Gravis.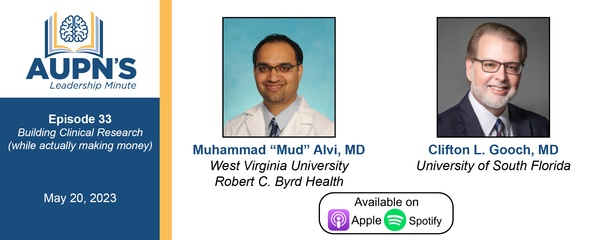 Leadership Minute
This month's AUPN Leadership Minute, introduced by Muhammad "Mud" Alvi (West Virginia Univ.) showcases our own past president, Dr. Clifton Gooch (Univ. South Florida) in his role as Associate Dean for Research in a segment entitled "Building Clinical Research (while actually making money)". Clinical research is essential for translating laboratory discoveries into human therapies, but unlike the challenging but well understood mechanisms for supporting basic science research through NIH grants, the pathways to building a successful clinical research enterprise often seem shrouded in mystery. In this summary, Dr. Gooch outlines the hidden strategies for building successful and fiscally sound clinical research.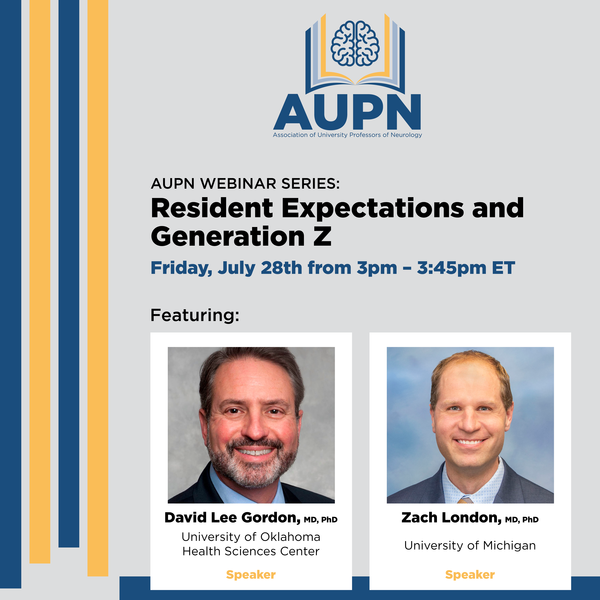 Our First AUPN Webinar!
We are very excited to announce the first webinar sponsored by the AUPN. This program, which will air on Friday, July 28th from 2:00 – 2:45 pm CDT/3:00 – 3:45 pm EDT, brings together two outstanding educators, David Lee Gordon (Univ.of Oklahoma) and Zachary London (Univ.of Michigan) to discuss "Resident Expectations and Generation Z." In the first half, David Gordon will discuss the unique background and perspective of Generation Z learners, the roles of unconscious biases on the perspectives of Generation Z learners and their instructors, and the five main expectations of Generation Z residents. In the second half, Zach London will review examples of effective teaching strategies that can appeal to a younger generation of learners, including microlearning, game-based learning, and social media-based learning. Register today to learn how to teach neurology successfully to the latest generation of neurology learners. This webinar is free to members but pre-registration is required.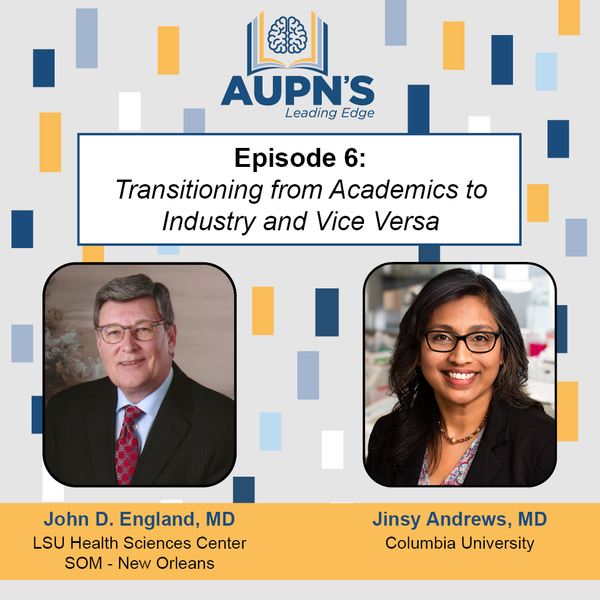 New Leading Edge Podcast
We are also pleased to present our latest Leading Edge Podcast, entitled "Transitioning from Academics to Industry and Vice Versa," presented by Dr. Jinsy Andrews (Columbia University) and introduced by AUPN president-elect John D. England, (LSU). Dr. Andrews, Director of Neuromuscular Clinical Trials at Columbia University, shares her experiences and some of the opportunities and challenges in her career while transitioning between academia and industry. She reviews the growing need for a collaborative approach to increase the efficiency and impact of drug development in neurological disorders, especially rare and orphan conditions, which has created unique opportunities for neurologists to develop careers that involve both industry and academia.
Spread the Wisdom!
Many of our Leadership Minutes segments cover topics that are of broad potential interest to academic neurologists. Our Media Engagement Committee has identified a selection of Leadership Minutes programs that are particularly appropriate for sharing with your departments. Please consider sharing these links with your faculty via email or in a faculty meeting:

AUPN Spring Programs
Our three Spring Seminars are now history, and again provided outstanding opportunities to learn from our peers. I am very grateful to the organizers and presenters of all three programs.
The New Chairs Roundtable featured Matthew Rizzo (Univ. of Nebraska) and Larry Goldstein (Univ of Kentucky) who gave outstanding pep talks for the new chairs (we are negotiating with Dr. Rizzo to turn his into a podcast!).
The Spring Chairs Session moderated by Jun Lee (Houston Methodist/Weill Cornell) focused on the interactions of neurology departments with hospitals under 3 different types of financial structures, with wonderful talks by Gil Wolfe (SUNY Buffalo), Dane Chetkovich (Vanderbilt) and Matthew Fink (Weill Cornell).
Yesterday, our session on Women Leaders in Neurology was chaired by Claire Henchcliffe (Univ. of Callifornia, Irvine) and Alyssa Willis (Univ. of Mississippi), with outstanding presentations from Barbara Vickrey (Mount Sinai/Icahn) and Carlayne Jackson (Univ. of Texas San Antonio).
Thanks to all these speakers for sharing their experience and wisdom! If you missed any of these sessions, the PowerPoint files and recordings are available on the AUPN website, and links to each specific session are noted in the resources section at the bottom of this email.
Until next month,
L. John Greenfield, Jr, MD PhD
AUPN President
AUPN encourages you to forward this newsletter to other faculty in your department, or anyone else who might benefit from our programs.
Open Neurology Leadership Positions