Jaffar Khan Named Chair of Neurology at Emory University
Jaffar Khan has been appointed chair of the Department of Neurology at Emory University School of Medicine, effective April 1, 2023. He has led the department as interim chair since May 2021. Khan graduated from Louisiana State University School of Medicine and completed his neurology residency at the University of Iowa, followed by a one-year fellowship in clinical neurophysiology at Emory. He joined the Emory Department of Neurology faculty in 1988 and is currently Professor of Neurology. He is board certified in Neurology, Vascular Neurology, Electrodiagnostic Medicine and Clinical Neurophysiology. During his time at Emory, Khan has been a medical education leader, building teams and advocating for both faculty and student education, serving as director of the neurology residency and clinical neurophysiology fellowship training programs. He was appointed vice chair for Medical Education from 2010 to 2023. He also served as assistant dean for Graduate Medical Education at Grady Hospital from December 2016 to 2021.
Khan is a Fellow of the American Academy of Neurology (AAN) and received the organization's Award for Dedicated Service from 2011-2013. He has received more than 20 institutional and national teaching awards, including the 2016 Parker J. Palmer Courage to Teach Award by the Accreditation Council for Graduate Medical Education (ACGME), the AAN's 2013 Clerkship Directors Teaching Award, the AAN's 2012 Residency Program Director Award, and the 2021 Emory Provost's Distinguished Teaching Award for Excellence in Graduate and Professional Education. He also chairs the ACGME's Review Committee for Neurology, the AAN's Graduate Education Subcommittee, and the Consortium of Neurology Program Directors, and serves as vice chair for AAN's Education Committee and board of director member and treasurer of the American Board of Psychiatry and Neurology.
Please congratulate Dr. Khan on his new position and welcome him to the AUPN!

Introducing AUPN Virtual Office Hours!
AUPN is pleased to introduce Virtual Office Hours as a new addition to your member benefits! Once a month, beginning in July, an experienced Chair will be available for one hour to meet with AUPN members (by Zoom) to listen, advise and share experiences regarding any issues or challenges that members may be facing. These "office hours" are open to everyone, regardless of how long you've been in your position. All members are encouraged to attend!
The July Office Hours will be hosted by Larry Goldstein (Univ. of Kentucky) on Thursday, July 6th from 1pm – 2pm ET. If you'd like to attend, please email the AUPN Executive Office at neuro@aupn.org and we will send you a calendar invite and link. We hope this new benefit brings further value to you and your department!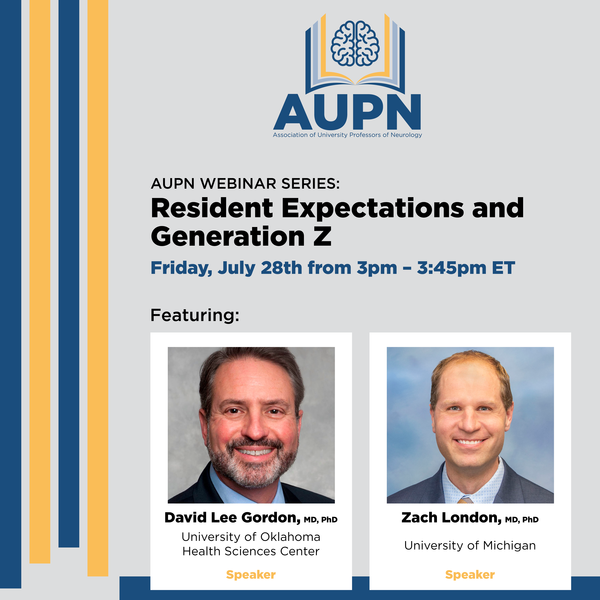 AUPN Webinar: Resident Expectations and Generation Z
The AUPN's first webinar will air on Friday, July 28th from 2:00 – 2:45 pm CDT/3:00 – 3:45 pm EDT. This program brings together two outstanding educators, David Lee Gordon (Univ.of Oklahoma) and Zachary London (Univ. of Michigan) to discuss "Resident Expectations and Generation Z." In the first half, David Gordon will discuss the unique background and perspective of Generation Z learners, the roles of unconscious biases on the perspectives of Generation Z learners and their instructors, and the five main expectations of Generation Z residents. In the second half, Zach London will review examples of effective teaching strategies that can appeal to a younger generation of learners, including microlearning/microteaching, game-based learning, and social media-based learning. Register now to learn how to teach neurology successfully to the latest generation of neurology learners. This webinar is free to members but pre-registration is required.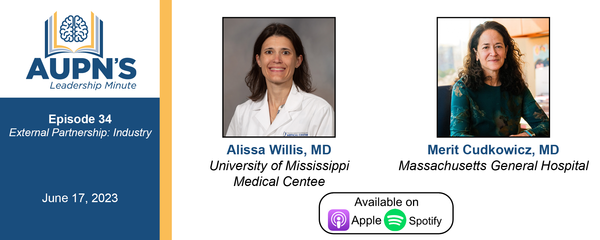 Leadership Minute
The June AUPN Leadership Minute, entitled "External Partnerships," explores how development of new therapies in neurology is accelerated by strong partnerships between academia, industry and government. In this program moderated by Alissa Willis (Univ. of Mississippi), Merit Cudkowicz (Mass General Hospital/Harvard Medical School) discusses how combined academic/industry fellowships can increase the number of neurologists trained in clinical trials and therapy development. Such trainees can better negotiate the challenges of both academia and pharma and may divide their career between industry and clinical neurology. The HEALEY ALS Platform trial is an excellent example of successful academic/industry partnership, and could serve as a model for other subspecialties.
ABPN Award Program Submission Deadlines
As previously noted in the Neurotransmitter, the American Board of Psychiatry and Neurology offers two grant award programs suitable for early to mid-career faculty.
The ABPN Faculty Innovation in Education Award supports the development of innovative education and/or evaluation projects that promote effective residency/fellowship training or lifelong learning of practicing psychiatrists and neurologists. Preference is given to multi-site and to junior or mid-faculty level applicants who have not previously received the award. Projects will normally be for two years with up to $50,000 per year ($100,000 total) funding to cover salary, fringe benefits, and other costs. No indirect costs will be covered. Up to two psychiatry and two neurology awardees will be selected. The submission deadline for 2024-2025 awards is August 1, 2023.
The ABPN Dorthea Juul, PhD, Education Research Award supports research projects related to the mission of the ABPN to promote and assess the competency of psychiatry and neurology candidates for initial and continuing certification (maintenance of certification). The ABPN is particularly interested in projects that explore how initial or continuing certification affects quality of patient care, how to evaluate innovative resident or lifelong learning educational programs, novel ways to evaluate resident competencies, the value and public perceptions of board certification, and how board certification affects training, clinical practice, and lifelong learning. Up to two psychiatry and two neurology awards of $100,000 each are made annually for projects lasting up to two years. No indirect costs will be covered. The submission deadline for 2024-2025 awards is August 8, 2023.
Click here to learn more about both grants and to apply.
Until next month,
L. John Greenfield, Jr, MD PhD
AUPN President
AUPN encourages you to forward this newsletter to other faculty in your department, or anyone else who might benefit from our programs.
Open Neurology Leadership Positions