Jose Romano Appointed Interim Chair at University of Miami
Jose Romano has been appointed chair of the Department of Neurology at the University of Miami Miller School of Medicine, after the untimely passing of Dr. Ralph Sacco from glioblastoma in January. Romano is Professor of Neurology, Executive Vice Chair for Clinical Affairs and Chief of the Stroke Division in the University of Miami Department of Neurology, and Director of the Jackson Memorial Hospital Comprehensive Stroke Center. He is originally from Mexico City, where he completed his medical studies at the Universidad Anahuac, followed by Neurology residency and Neuromuscular and Cerebrovascular fellowships at the University of Miami/Jackson Memorial Hospital in Miami, FL. He also serves as Director of the Vascular Neurology Training Program at UM/JMH and organizes the annual UM Stroke Update Course.
His current research interests include intracranial atherosclerotic disease, stroke disparities, and mild acute stroke. He is the principal investigator of the Mild and Rapidly Improving Stroke Study, co-principal investigator of the NIH-funded Regional Coordinating Center of the Florida Stroke Trials Network, co-principal investigator of the NIH-funded Transitions of Stroke Care Disparities Study, and co-investigator in the Florida Stroke Registry. He has published more than 200 peer reviewed papers on stroke and related topics.
Please congratulate Dr. Romano on his new position and welcome him to the AUPN!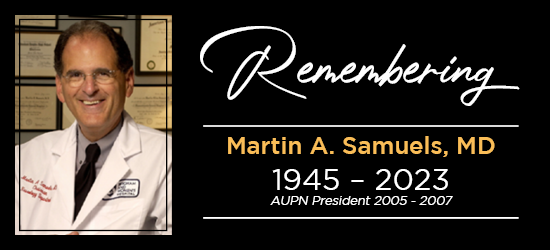 In Memoriam: Martin A. Samuels, MD
Martin A. Samuels, MD, founding chair emeritus of the Brigham and Women's Hospital Department of Neurology and the Miriam Sydney Joseph Distinguished Professor of Neurology at Harvard Medical School, died on June 6, 2023 at the age of 77. A graduate of Williams College in Williamstown, MA, and the University of Cincinnati College of Medicine, he completed a full internal medicine residency at Boston City Hospital, serving as chief resident, and then obtained neurology and neuropathology training at Massachusetts General Hospital. He was board certified in both Neurology and Internal Medicine. He subsequently started the Neurology service at the West Roxbury, MA Veteran's Administration hospital and served as Chief of Neurology there until 1988, when he was recruited to the Brigham and Women's Hospital to create a Department of Neurology from a small division in the Department of Medicine. That department, created formally in 1994 with Samuels as chair, grew to more than 250 academic appointments in 15 subspecialty divisions including 20 full professors, 6 with endowed chairs, and more than $40 million in annual research support. He stepped down in 2018 to become the Emeritus Founding Chair named for his parents.
Samuels had an encyclopedic knowledge of general neurology. His research spanned the interface between neurology and general medicine, particularly cardiology, famously focusing on the mechanisms underlying "voodoo death," in which strong emotion can trigger fatal cardiac arrhythmias. Based on this work, he received the H. Houston Merritt Award from the AAN for clinically relevant research. He created the Manual of Neurological Therapeutics, started when he was a neurology resident, which was renamed Samuel's Manual of Neurological Therapeutics for its 9th edition in 2017. He was also an editor of Office Practice of Neurology, Adams and Victor's Principles of Neurology, and Shared Care in Neurology. He was an early proponent of neurohospitalists and edited the textbook Hospitalist Neurology. He was the founding editor of Journal Watch Neurology, a monthly newsletter of important advances in neurology, and an associate editor of the Annals of Neurology. He was a fellow of the AAN, ANA, and Royal College of Physicians (London), and named a Master in the American College of Physicians. He was a popular visiting professor and lecturer, always entertaining and provocative. He was the first recipient of the Harvard Medical School Faculty Prize for Excellence in Teaching.
Samuels served as AUPN president from 2005-2007 and played a major role in pushing Neurology to join the National Residency Match Program. Joel Morganlander (Duke Univ.), who worked with Samuels on this project, remembers him as a mentor's mentor, always supportive of clinician educators. When I emailed Dr. Samuels last summer to ask for information for the article I was preparing on the history of the AUPN, and casually asked about stepping down as chair, he responded "I don't plan to ever retire. Neurology is my vocation and avocation." He attached an essay he wrote on the subject entitled "The Department Chair as a Calling." True to his word, he never retired. He will be profoundly missed by his many colleagues, trainees, family and friends.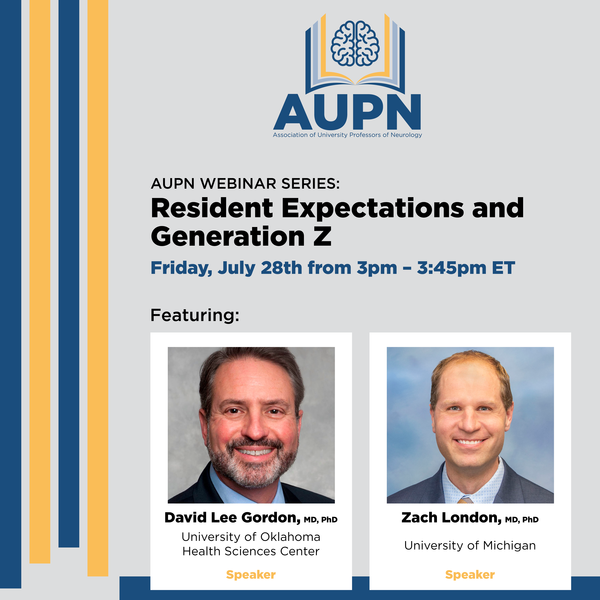 AUPN Webinar: Resident Expectations and Generation Z
It's not to late to register for AUPN's first webinar, entitled "Resident Expectations and Generation Z," which will air on Friday, July 28th from 2:00 – 2:45 pm CDT/3:00 – 3:45 pm EDT. This program brings together two outstanding educators, David Lee Gordon (Univ.of Oklahoma) and Zachary London (Univ. of Michigan). In the first half, David Gordon will discuss the unique background and perspective of Generation Z learners, the roles of unconscious biases on the perspectives of Generation Z learners and their instructors, and the five main expectations of Generation Z residents. In the second half, Zach London will review examples of effective teaching strategies that can appeal to a younger generation of learners, including microlearning/microteaching, game-based learning, and social media-based learning. Register now to learn how to teach neurology successfully to the latest generation of neurology learners. This webinar is free to members but pre-registration is required.

Sign up for AUPN Virtual Office Hours!
AUPN now offers Virtual Office Hours each month to provide an opportunity for new (or veteran) chairs or other AUPN members to discuss thorny problems with an experienced colleague. These "office hours" are open to everyone, regardless of how long you've been in your position. All members are encouraged to attend! The first session hosted by Larry Goldstein (Univ. of Kentucky) on July 6th had a small but enthusiastic audience.
The next is scheduled for Friday, August 11th at 3pm EDT/ 2pm CDT/ 12pm PDT and will be hosted by Dr. David Standaert, Chair of Neurology at the University of Alabama at Birmingham. Dr. Standaert will share his expertise on topics including clinical and translational research, departmental funds flow, and faculty recruitment and retention. If you'd like to attend, please email the AUPN Executive Office at neuro@aupn.org and we will send you a calendar invite and link.

AUPN Fall Sessions at the ANA
The ANA meeting happens early this year, September 10 – 12 in Philadelphia, PA, so it's already time to register for AUPN's three chair-level didactic sessions:
The first session on Sunday, September 10 from 7:30 – 9:00 AM will explore "Advanced Practice Providers and How They Fit into Neurology." This session, moderated by Rich O'Brien (Duke Univ.), will discuss the advantages and challenges of using Advanced Practice Providers (APP's) in outpatient and inpatient neurological settings. Given the shortage of neurologists and neurological residents, departments must look to alternative methods to care for the tsunami of patients we care for in both inpatient and outpatient settings. Featured speakers will include Aashit Shah (Carilion Clinic/Virginia Tech), Dane Chetkovich (Vanderbilt), Salvador Cruz-Flores (Texas Tech Univ. at El Paso) and Gwenn Garden (Univ. of North Carolina). The session will focus on how APP's are currently utilized in Neurological Practices, the training and background for neurological APP's, and practice settings in which APP's thrive.
On Monday September 11 from 7:00 – 8:30 AM, our second session will focus on "Neurology in the Multi-Centered World: Teaching on Multiple Campuses." Many medical schools have or are developing regional campuses that provide clinical training for their medical students separate from their primary clerkship site. Yet, regional campuses are part of a single medical school, and the LCME requires equivalent experiences, regardless of the campus location. Hence, neurology departments need to develop processes for overseeing medical student education across campuses, which can be particularly challenging when neurological expertise at regional campuses may be limited. This program will be moderated by Larry B. Goldstein (Univ. of Kentucky) with guest speakers Catherine Ikard (Univ. of Alabama) and Kimberly Jones (Univ. of Kentucky), and will help you develop strategies to meet LCME requirements based on practical examples and prepare you to address the educational challenges of having Neurology clerkships across regional campuses.
Our third chair-level session on Tuesday, September 12 from 7:00 – 8:30 AM will cover the important topic of "Title IX for Neurology Chairs." The program will be moderated by Michel Torbey (Univ. of New Mexico) with featured speakers Paul A. Garcia (UCSF) and Anita Raj, (UCSD). This course is designed to provide neurology department chairs and leaders with a comprehensive understanding of Title IX, including the legal requirements of Title IX and its application to neurology departments, as well as the responsibilities of department chairs and leaders in preventing and addressing sex discrimination. Participants will gain the knowledge and skills needed to effectively address and prevent sex discrimination with their departments including harassment, retaliation, and unequal treatment, and learn how to foster a culture of inclusion and respect.
The ANA meeting will also host a Meet the Chairs Interactive Workshop on Monday September 11 from 12:00 – 1:00 PM. Prominent chairs of neurology will discuss how they handle their position, including what's involved with being a chair; what the process is for attaining their position, and how to interact with chairs. This year's focus will be on "Pathways to becoming a chair". The panel includes Claire Henchcliffe, MD (Univ. of California - Irvine), Jun Li, MD (Houston Methodist), Tracey Milligan, MD (New York Medical College ) and Gordon Smith, MD (Virginia Commonwealth University), who will speak on what motivated them to look for this level of responsibility, what challenges they faced, and how they have managed being a chair along with other facets of their academic career.
Finally, our AUPN Networking Session for Small Academic Neurology Departments will be held on Tuesday, September 12 from 11:00 - 12:30 PM. While all Neurology departments share some common attributes, some challenges and opportunities are unique to smaller academic departments, such as handling teaching and clinical service responsibilities while protecting time for research and faculty development. This session, sponsored by the AUPN and hosted by Aashit K. Shah (Carilion/Virginia Tech) provides an opportunity for chairs of smaller departments to meet, discuss issues and share strategies. Whether your department is "small" is up to you, and all department chairs are welcome to attend.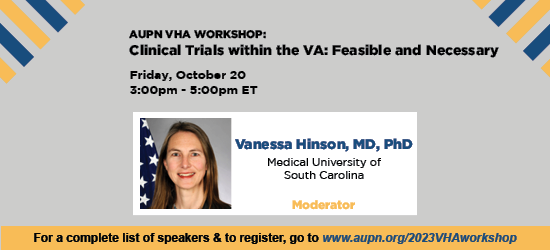 AUPN Virtual VA Neurology Symposium
The annual AUPN VA Chiefs Workshop, scheduled for Friday, 20 October 2023 from 3-5pm EDT, will address the topic of "Clinical Trials within the VA: Feasible and Necessary." This on-line symposium will be moderated by Vanessa Hinson (MUSC) with guest speakers including John Duda (Michael J. Crescenz VA Medical Center), Olga Brawman-Mintzer (Ralph H. Johnson VA Medical Center), Rebecca Walker (VA Puget Sound) and Colin Quinn (Michael J. Crescenz VA Medical Center). The speakers will discuss the feasibility of conducting clinical trials within the VA health care system, as well as the role of VA affiliated non-for-profit research organizations and the VA Cooperative Studies Program. The program will also explore how to conduct industry-sponsored research within VA, and how best to facilitate Veteran trial participation with an academic affiliate, with the goal of encouraging investigators to conduct clinical research that includes Veterans.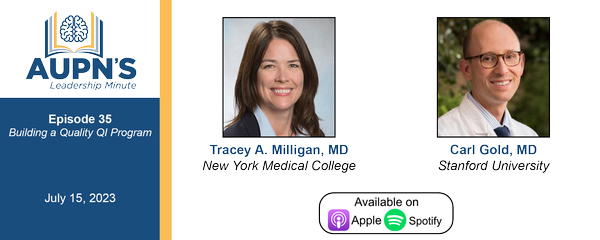 Leadership Minute
The July AUPN Leadership Minute, entitled "Building a Quality QI Program" is presented by Carl Gold (Vice Chair for Quality, Safety and Experience at Stanford Univ) and moderated by Tracey A. Milligan (New York Medical College). One of the main responsibilities of being a department chair is measuring and ensuring the quality of outpatient and inpatient clinical performance. Forward-thinking department chairs have an opportunity to design and implement highly effective, sustainable quality improvement programs by emphasizing faculty training, recognition, and collaboration. This video highlights the steps necessary for developing a sustainable high-quality QI program in your department.
Until next month,
L. John Greenfield, Jr, MD PhD
AUPN President
AUPN encourages you to forward this newsletter to other faculty in your department, or anyone else who might benefit from our programs.
Open Neurology Leadership Positions