COMBINING CLINICAL AND RESEARCH CAREERS
IN NEUROSCIENCE (CCRC) SYMPOSIUM
National Institutes of Health
Washington, DC
Friday, June 8 – Saturday, June 9, 2018
Thank you for a great symposium!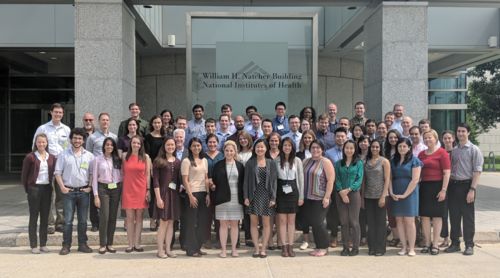 ---
The application website closed on April 15th, 2018.
Please contact the Executive Office at neuro@aupn.org if you would like to be added to the notification list for the 2019 course.
The CCRC Course:
Based on the very enthusiastic survey responses of past participants we plan to continue with the many successful elements of the program, including a networking lunch, social events, small group mentoring, and a number of sessions relevant to a physician-scientist's career. An outstanding group of academic neurologists will discuss strategies for combining research and clinical activities from personal perspectives. Representatives from NINDS will present the many options that exist for continued research training, career development, research support, and repayment of academic debt. Most importantly, the students have ample time to interact with the faculty in small group discussions that supplement the formal presentations.
Course Goals:
The goals of the symposium are to:
1) encourage medical students with neuroscience research training to pursue clinical training (with special emphasis on neurology) and choose clinician-scientist careers;
2) describe and discuss strategies for successfully melding clinical and research careers;
3) discuss the satisfaction and power of a combined clinical and research career;
4) describe and discuss sources of and strategies for obtaining training and research support; and
5) provide an opportunity for students to meet academicians who have successfully combined clinical and research careers in neuroscience.
Course Faculty:
Course faculty each year have been outstanding, almost always receiving top evaluations from the students. The faculty are selected after broad nomination from the neurology chairs across the country, highlighting young, enthusiastic, articulate, and inspiring role models. Those faculty who have benefited from NIH training awards including R25, K awards, and sometimes a first R grant are targeted. As with the student selection, we aim for a diversity in the faculty as well.
Outcome:
At the conclusion of this program, the desired outcome is that attendees are better informed about the rewards and challenges of a combined clinical and research career. We intend that they will have acquired strategies for succeeding as both scientists and clinicians, and that they will have had an opportunity to interact with NIH officers to better understand programs designed to promote early stage research careers, and that informal discussion with academic leaders in neurology will convince them of the great need for clinician-scientists
Student Cost:
Program funding will cover each student's hotel stay, coach travel expenses, transportation in DC (to/from the airport and the hotel), and meals during the symposium. If driving, non-valet parking and automobile mileage will be reimbursable. Each student typically has their own room unless otherwise requested. Program funding does not cover travel expenses to/from the student's home and the airport or meals other than those provided during the symposium.
Qualifications to apply:
We invite students who are candidates for combined research and clinical careers in the neurosciences, i.e., future clinician-scientists, to apply to attend this meeting. The ideal candidate will have completed at least one year of neuroscience or related research training during medical school, and also completed some required clinical clerkships, as this is the time when many students will be thinking about further clinical training. In exceptional instances, medical students at other stages of their training may also be candidates. MD/PhD students and MDs with significant research training, women, minorities, and persons with disabilities are strongly encouraged to apply.
Program Funding:
National Institute of Neurological Disorders and Stroke (NINDS), Association of University Professors of Neurology (AUPN), American Neurological Association (ANA), American Academy of Neurology (AAN) and Child Neurology Society (CNS).
Questions:
Please contact the Executive Office at neuro@aupn.org with any questions.