AUPN Fall Chairs Session Summary & New AMA "Reimagining Residency" Grant Program
5841 Cedar Lake Rd., Suite 204
Minneapolis, MN 55416
(952) 545-6724
neuro@aupn.org
From the President of the AUPN
Dear AUPN Colleagues:
Last October, the American Neurological Association (ANA) held its 143rd Annual Meeting in Atlanta, GA. During this meeting, the AUPN held three educational chairs sessions on the topics of Burnout in Academic Neurology: How bad is it, and what can we do to prevent it?, Creating a Culture within your Neurology Department, and Faculty Recruitment and Retention: Lessons and Strategies. These sessions were well attended and overall received positive responses based on the evaluations provided by both AUPN and the ANA.
Please click here to read a summary of each chair session with evaluation results. PowerPoint presentations can be found on the AUPN website under Education Programs.
If you wish to continue the conversation on either topic, Chairs are encouraged to post a topic in the AUPN Chairs Discussion Forum, located under the Members Only tab on the AUPN website.
Be sure to save the date for the ANA's 144th Annual Meeting, which will be held October 13-15, 2019 at the Marriott St. Louis Grand in St. Louis, MO.
---
New AMA "Reimagining Residency" grant program
The American Medical Association has distributed a Request for Proposals (RFP) for its new "Reimagining Residency" five-year $15-million grant program aimed at transforming residency training to better address the workforce needs of our current and future health care system. The initiative will support innovations that provide meaningful and safe transitions from undergraduate medical education (UME) to graduate medical education (GME), establish new curricular content and experiences to enhance readiness for practice, and foster well-being in training. Selected applicants from U.S. GME sponsors, medical schools, health systems and specialty societies will be funded to support bold and innovative projects that promote systemic change in graduate medical education. Letters of Intent are due on February 1, 2019. Visit changeresed.org to learn more about the "Reimagining Residency" program and access the RFP.
---
Heads Up!
A joint AUPN/AAN Survey will be going out to all departments of Neurology on Monday, 1/7/2019 to assess the financial health of Departments of Neurology. Please take the time to complete it! The information will help us track changes over time (Last survey was done slightly over 10 years ago) and hopefully better argue our value to our Deans and Health Care Systems.
---
Chairs, please don't forget to pay your 2019 dues! Details regarding what your dues covers and information on how to renew can be found here.

---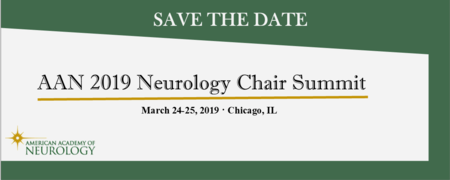 The American Academy of Neurology's (AAN) 2019 Neurology Chair Summit will be held March 24-25, 2019 in Chicago, IL. The AAN will send specific details in early January. If you have questions regarding the AAN Chair Summit, please contact Susan Rodmyre, Senior Director, Education and Research at the AAN via email: srodmyre@aan.com.
---
Robin Brey, MD
AUPN President
2019 Association of University Professors of Neurology