New Chair at SIU
Please join me in welcoming to the AUPN Jayant N. Acharya, MD, who was recently appointed Chair of the Department of Neurology at Southern Illinois University (SIU) School of Medicine. Dr. Acharya obtained his MD and completed residencies in Internal Medicine and Neurology in India before moving to the United States, where he completed a residency in Neurology at Wake Forest University School of Medicine and a fellowship in Epilepsy and Clinical Neurophysiology at the Cleveland Clinic Foundation. He was appointed Assistant Professor of Neurology at the University of Pittsburgh and Associate Professor of Neurology at Saint Louis University before moving to Penn State University as a tenured Professor of Neurology, Chief of the Division of Epilepsy and Co-Director of the Clinical Neurophysiology Lab. He is a fellow of the American Epilepsy Society, American Clinical Neurophysiology Society, American Academy of Neurology and American Neurological Association, and received the Distinguished Educator and Scholarship in Education awards from Penn State College of Medicine. Dr. Jim Gilchrist, who previously held the chair position at SIU, will remain active in the AUPN through the remainder of his term as Counselor.
New AUPN Officers
I am very pleased to announce our newly elected AUPN officers, with the deep South strongly represented! John England, MD Chair of Neurology at LSU Health Sciences Center in New Orleans will serve as President-Elect for 2022 – 24, and Mary (Alissa) Willis, MD, Chair at University of Mississippi Medical Center, will serve as Second Vice President. Our new Counselors include A. Gordon Smith, MD, Chair at Virginia Commonwealth University, Daniel L Menkes, MD, Chair at Oakland University/William Beaumont Hospital, Amy Brooks-Kayal, MD, Chair at University of California at Davis, and Jun Li, MD, PhD, who is transitioning from the Chair at Wayne State University in Detroit to the Chair at Houston Methodist/Texas Medical Center in Texas (more about that in a subsequent newsletter). Congratulations to our new AUPN leadership!
Strategic Planning
Your AUPN leadership recently completed a successful Strategic Planning program to guide our Association through the next two years. Our goals include enhancing AUPN membership, integrating all levels of membership into governance and activities, solidifying the AUPN's reputation and voice with external stakeholders, and expanding the AUPN's educational reach. For each goal, we are pursuing a variety of strategies and tactics, which you will be hearing more about in the coming months. Stay tuned!
Membership Enhancement: Vice Chairs
One of our first actions to increase participation in the AUPN was to extend membership to vice-chairs of neurology. The rationale is that vice chairs often handle administrative and other duties at the chair level, serve as acting chair when needed, and may become chairs later in their careers. As you know, membership in the AUPN is granted at the Department level, so there is no additional cost to your department. This membership adds to those already included with departmental membership: the chair, residency program director, clerkship director, research director, child neurology director and VA director. Many Departments have multiple vice-chairs, in which case the chair should choose a single administrative vice chair or the person who would most benefit from membership. If the research director holds a vice chair position, this would be an additional membership position. Please let us know who will be the vice chair representative in your department, and while you are there, check to ensure that the rest of your department's membership listings are up-to-date!
AUPN Spring Programs Update
May has been a busy month for AUPN educational programs! On Friday May 6, our New Chairs Round Table was hosted by Dr. John Greenfield, President of the AUPN, with 12 new and experienced chair members attending. In addition to an orientation to the membership benefits of the AUPN, this session featured two brief presentations, one by Howard Goodkin, MD PhD entitled "Advice to Myself as a Young Chair," and the second by Jun Li, MD, PhD on "Time Savers for New Chairs." New chairs were encouraged to select a mentor chair among a list of volunteers.
On May 13, Dr. David Standaert, 1st Vice President of the AUPN, hosted our Spring Chairs Education Session entitled "Simulations for Training in Neurology." Two different cutting-edge approaches to simulation-based learning were presented by Dr. Wolfgang Muhlhofer, Associate Professor of Neurology at the University of Alabama at Birmingham and Dr. Letitia Sharma, Professor of Neurology at UCLA, followed by an active discussion among the 20 attendees. A recording of the session will be posted on the AUPN website, as well as an excellent list of simulation-related resources.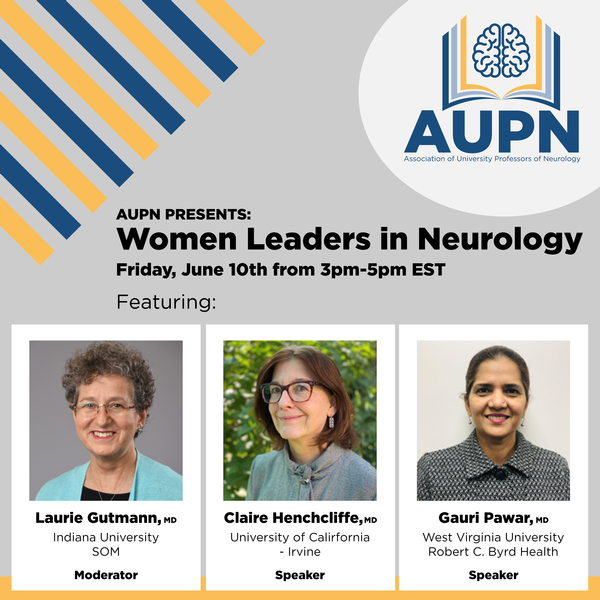 Women Leaders Program
Our 2nd annual Women Leaders in Neurology session will be held on Friday, June 10 from 3-5 PM EDT, hosted by Dr. Laurie Gutmann, Chair of Neurology at Indiana University. Speakers will include Dr. Claire Henchcliffe, Chair of Neurology the University of California, Irvine, and Dr. Gauri Pawar, Vice Chair for Education and Residency Program Director at West Virginia University School of Medicine. This session is free to both members and nonmembers, but requires pre-registration.
Leadership Minute
A new AUPN Leadership Minute has been posted for May 2022, entitled "Walking the Tight Rope: Balancing Multiple Leadership Roles." This month's session, hosted by Dr. Alissa Willis and featuring Dr. Michael Dobbs, Chair of Neurology at the University of Texas Rio Grande Valley, provides strategies for navigating multiple leadership responsibilities simultaneously, and also introduces the challenges of creating a neurology department at a new medical school.
Introduction and Thanks
It is my honor and privilege to take over as President of AUPN this month, after 2 years of outstanding leadership by Dr. Cliff Gooch. Thank you for entrusting me with this responsibility! For those who don't know me, I have been Chair of Neurology at the University of Connecticut/UConn Health (Go Huskies!) for the past 6 years, and was previously chair at the University of Arkansas for Medical Sciences. Your AUPN Officers and I have some big plans for the AUPN, and we will need your support. These are challenging times for neurology departments, and we want to be a key resource for achieving your goals. Let us know how we can help you.
L. John Greenfield, Jr, MD PhD
AUPN President