Barrett named Chair of Neurology at UMass Chan
Please congratulate Dr. Anna AM Barrett who has been named professor and chair of Neurology at the UMass T.H. Chan School of Medicine and chief of the Neurology Service at the VA Central Western Massachusetts Healthcare System. Dr. Barrett earned the MD degree at New York University School of Medicine and completed neurology residency at Columbia University and fellowship in behavioral neurology at the University of Florida. She comes to UMass Chan from the Emory University School of Medicine, where she served as director of the neurorehabilitation division of the Emory Brain Health Center and professor of neurology and rehabilitation. Dr. Barrett also served as executive director for the Center for Visual and Neurocognitive Neuroscience and medical director at the Cognitive Neurology Clinic at the Atlanta VA Healthcare System. Previously, she was the co-director of the stroke rehabilitation program and director of stroke rehabilitation research at the Kessler Institute for Rehabilitation in New Jersey and had faculty appointments at Rutgers New Jersey Medical School and Pennsylvania State University College of Medicine. Her research program encompasses brain-behavior relationships relevant to spatial cognition and rehabilitation of spatial neglect; person-centered care and outcomes relevant to function and life participation; and identification and management of hidden disabilities and mechanisms of deficit unawareness. Dr. Barrett succeeds Brian Silver, MD, the Endowed Chair in Neuroscience Research, and professor of neurology, who served as interim chair following prior chair Robert H. Brown Jr., DPhil, MD. We welcome Dr. Barrett to the AUPN in her new role.
If you know of other new chair appointments, please email information to neuro@aupn.org.

AUPN is now on Twitter!
Yes, the AUPN has joined the 21st century! As part of our recent effort to leverage the digital world to improve our visibility and impact as a leading organization for neurology, we have established an AUPN twitter account, which will be administered by members of our Media Engagement Committee on a rotating basis. We can now share selected material—like the Leadership Minute—with a broader audience, and we can be tagged in other posts of interest to neurology leaders and aspiring leaders. Our Twitter identity is @AUPN_leaders – please add the AUPN to your Twitter feed by following us! Thanks to Dr. Alissa Willis (Univ. of Mississippi), Chair of the Media Engagement Committee, for making this happen!
AUPN Partners with Neurology Live
Our other big venture into the digital world is a new partnership with MJH Life Sciences, the host of the NeurologyLive website that provides a platform for a variety of neurology organizations and services. We now have a partner website page on which we can promote our own content such as podcasts, leadership minutes, webinars, conference coverage, and summaries or PowerPoints of the educational programs we present at the ANA meeting. We encourage you to follow Neurology Live (@neurology_live) on Twitter, which will help us amplify our own messages.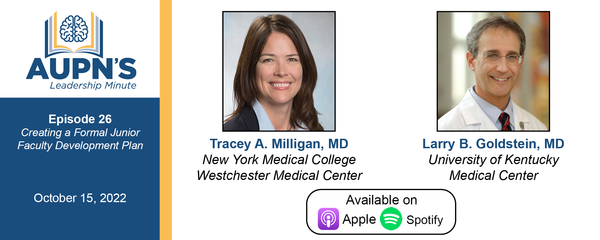 Leadership Minute
The new AUPN Leadership Minute for October covers a topic relevant to all neurology chairs: "Creating a formal junior faculty development plan". This month's program is presented by Dr. Larry Goldstein , Professor and Chair of Neurology at the University of Kentucky, and introduced by Dr. Tracey Milligan, Professor and Chair of Neurology at New York Medical College. Dr. Goldstein's well-organized and data-driven approach to faculty development is based on statements of evidence used for faculty advancement, and pairs junior faculty with more senior faculty to guide their career development and success. This is a model that could be applied in most academic departments.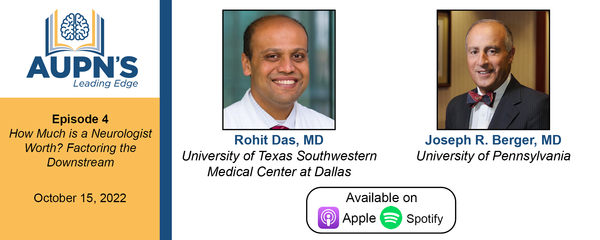 A New "Leading Edge" Podcast!
Our leadership minute for August by Dr. Joseph Berger (University of Pennsylvania) entitled "How Much is a Neurologist Worth? Factoring the Downstream" was so successful that it has now been expanded to a full podcast in our "Leading Edge" series. Dr. Berger discusses how neurologists are undervalued in academic and non-academic settings when their compensation is predicated on RVUs alone. Neurologists, particularly in certain subspecialties, generate enormous economic advantages for their institutions based on downstream revenues that need to be recognized, appraised, and valued. Dr. Rohit Das (University of Texas Southwestern) serves as moderator.
VA Directors' Workshop
The second annual Virtual Workshop for VA Neurology Directors, held on Friday, October 7, was a huge success, with 36 attendees this year compared to 21 attendees in 2021. The workshop, hosted by Dr. Sharyl Martini (Baylor) and Dr. Glenn Graham, focused on Neurology Centers of Excellence in the VA system. This program clearly serves an important need and constituency, and we anticipate this continuing as an annual event.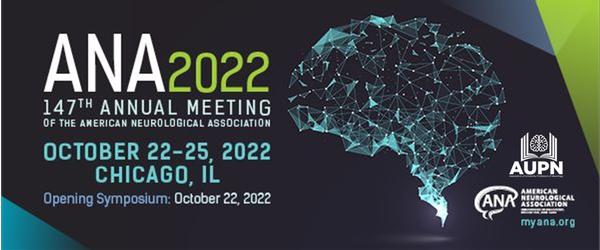 See You in Chicago!
The American Neurological Association's Annual Meeting is right around the corner (October 22 – 25 at the Hyatt Regency Chicago). We will be hosting three career development sessions for department chairs (Sunday through Tuesday early mornings), our "Meet the Chairs" interactive workshop (Monday 1 PM), a Networking Lunch for Small Academic Departments (Tuesday, 11am – 12:30pm), and the 5th Annual ANA-AUPN Career Fair (Sunday 6:30 pm – 8:30 pm).
Please see our AUPN website for further details.
Until next month,
L. John Greenfield, Jr, MD PhD
AUPN President
AUPN encourages you to forward this newsletter to other faculty in your
department, or anyone else who might benefit from our programs.