In Memoriam: Ralph Sacco, MD
On January 17, 2023, the neurology community lost a visionary leader with the death of Ralph Sacco, MD at age 65 from glioblastoma. Dr. Sacco was the Olemberg Family Chair in Neurological Disorders, Miller Professor of Neurology, Public Health Sciences, Human Genetics, and Neurosurgery, and executive director of the Evelyn McKnight Brain Institute, as well as Senior Associate Dean for Clinical and Translational Science at the University of Miami Miller School of Medicine, and served as chief of neurology at Jackson Memorial Hospital. He is the only physician who has served as president of both the American Academy of Neurology (2017-2019) and the American Heart Association (2010-2011).
Dr. Sacco was born in New Jersey and attended Cornell University where he studied bio-electrical engineering. He was a cum laude graduate of Boston University School of Medicine, and received a master's in epidemiology from Columbia University, School of Public Health. He completed neurology residency training and postdoctoral training in stroke and epidemiology at Columbia Presbyterian in New York. He was professor of neurology, chief of the Stroke and Critical Care Division, and associate chairman at Columbia University before taking the Chair position at the University of Miami in 2007.
Dr. Sacco was internationally known for his work in stroke epidemiology and health disparities. He was the founding principal investigator of the Northern Manhattan Study, the Florida Puerto Rico Collaboration to Reduce Stroke Disparities, and the Miami Clinical Translational Science Institute, as well as co-investigator of multiple other NIH grants. He published extensively with over 1,000 peer-reviewed articles. He was the recipient of numerous awards, including the AAN Wartenberg Lecture, AHA Feinberg Award of Excellence in Clinical Stroke, the WSO Global Stroke Leadership Award, AHA Gold Heart Award, the NINDS Javits Award in neuroscience, and numerous named lectures. He was a fellow of both the Stroke and Epidemiology Councils of the American Heart Association, a fellow of the ANA, and an elected member of the Association of American Physicians and the National Academy of Medicine.
Donations in honor of Dr. Sacco can be made to the American Academy of Neurology Institute, a 501(c)3 organization.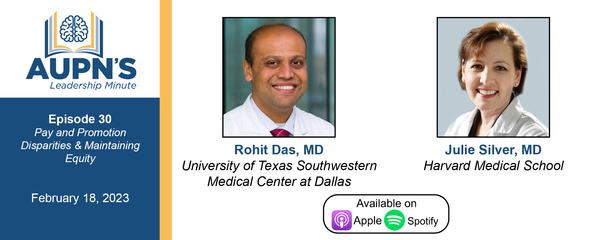 Leadership Minute
This month's AUPN Leadership Minute, presented by Dr. Julie Silver, Associate Professor and Associate Chair of Physical Medicine and Rehabilitation at Harvard Medical School, covers the important topic of "Pay and Promotion Disparities and Maintaining Equity" In this video, introduced by Rohit Das, MD (Univ. of Texas Southwestern), Dr. Silver describes her research demonstrating that women disproportionately conduct and disseminate pay equity research while men in leadership positions make most of the compensation decisions. Achieving pay equity is necessary but not sufficient; we must simultaneously ensure promotion equity and a psychologically safe workplace that supports wellness.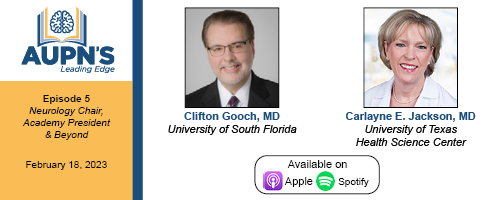 New Leading Edge Podcast: AAN President-Elect Carlayne Jackson
Life moves fast for our latest podcast speaker. Not only has Dr. Carlayne Jackson assumed the Edna Smith Dielmann Distinguished University Chair of neurology at UT Health Science Center, San Antonio, she is also President-Elect of the American Academy of Neurology! In this podcast entitled "Neurology Chair, Academy President & Beyond," moderated by AUPN Past President Clifton Gooch (Univ S. Florida), Dr. Jackson shares "lessons learned" on her path towards leadership: do what you feel passionate about, have a personal and professional strategic plan, find a mentor(s), protect your personal time and space, and prioritize your friends and family along the journey!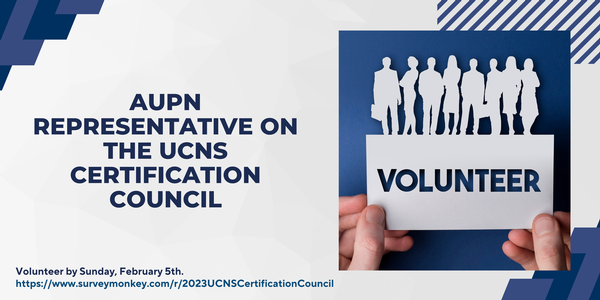 We're Seeking One Volunteer!
The AUPN is seeking one volunteer to serve as AUPN representative on the UCNS Certification Council. The United Council for Neurological Subspecialties' Certification Council sets policy and oversees the work of physician committees that develop certification examinations in each subspecialty. The new nominee will serve a three-year term from May 1, 2023 – April 30, 2026, which can be renewed once. Click here to view the job description.
If you would like to volunteer to serve on this Council, please complete this brief form by Sunday, February 19. A decision will be made by February 24.
Our thanks to Dr. Margaret Swanberg who has represented the AUPN on the Council since 2020.

Save the Date for AUPN Spring Programs!
New Chairs Round Table: Friday, May 5th, 2pm - 4pm CDT/3pm – 5pm EDT
The AUPN's Annual New Chairs Round Table will be held virtually this year. This is an opportunity for experienced mentor chairs (3+ years' experience) to meet with new(er) chairs (0-3 years' experience) and advise and help with the transition into their new role. The focus of the session will be to find out what the new chairs need, answer specific questions and inform them about AUPN resources and mentorship opportunities.
AUPN Spring Chairs Session: Friday, May 12th, 2pm - 4pm CDT/3pm – 5pm EDT
The topic for this year is "Navigating hospital partners and large healthcare systems." Healthcare systems have been rapidly evolving, creating a wide variety of administrative and financial relationships between hospitals and their affiliated medical schools and departments. Hospitals may be owned by the university or only have a contractual relationship with the medical school. Neurology chairs must learn how to navigate these complex relationships. Three neurology chairs representative of different types of hospital systems will share their experiences. The session will be moderated by Jun Li (Houston Methodist). Speakers will include Gil Wolfe (SUNY Buffalo) who will discuss "How to negotiate with hospital partners that are not fully aligned with your academic missions?" Dane Chetkovich (Vanderbilt) will present "Strategies to expand clinical footprints through partnership with regional hospitals," and Matthew Fink (Weill Cornell) will explore "What does the hospital CEO think and want from chairs?"
Women Leaders in Neurology: Friday, May 19th, 2pm - 4pm CDT/3pm – 5pm EDT
This annual session focuses on the challenges facing women in leadership roles in neurology. The session will be co-moderated by Claire Henchcliffe (University of California - Irvine) & Alissa Willis (University of Mississippi Medical Center). Stay tuned for further details!
ASENT Meeting 2023
Join the American Society for Experimental Neurotherapeutics (ASENT) from the comfort of your home, office or lab for the 2023 ASENT Annual Meeting, March 13-15, 2023. This is the premier conference for neurotherapeutics where senior leaders from healthcare payers, providers and prescribers, employers, investors, fast-growing startups, big pharma, policymakers, funders and innovation centers gather to improve the process of bringing neurotherapeutics to market. Nine symposia will address therapeutic advances in a broad range neurologic disease states, processes and delivery methods. There will also be interactive poster presentations, ASENT's celebrated pipeline presentations, and live discussion with speakers at the end of each day. Click here to learn more and to register.
Chairs - Please remember to pay your AUPN dues!
Until next month,
L. John Greenfield, Jr, MD PhD
AUPN President
AUPN encourages you to forward this newsletter to other faculty in your
department, or anyone else who might benefit from our programs.