Cleveland Clinic Florida appoints Amre Nouh as Regional Chair of Neurology
Cleveland Clinic Florida has appointed Amre Nouh MD, MBA, FAHA, as Regional Chair of Neurology and Director of the Cleveland Clinic Florida's Neuroscience Institute. Dr. Nouh is an expert in cerebrovascular disease and was previously System Director of Stroke and Cerebrovascular Disease at Hartford HealthCare and Medical Director of the Comprehensive Stroke Center at Hartford Hospital in Hartford, CT. He was also Associate Professor of Neurology at the University of Connecticut and directed the UConn/Hartford Healthcare Vascular Neurology Fellowship. After earning the MD degree from the University of Alexandria, Egypt, Dr. Nouh completed neurology residency at the University of Illinois and vascular neurology fellowship at Loyola University Medical Center in Chicago, Illinois. Dr. Nouh earned his executive MBA from MIT Sloan School of Management, pursuing interests in healthcare strategy, innovative healthcare delivery models, AI machine learning and uses of technology to improve patient outcomes. His clinical research interests include large vessel occlusion stroke, stroke in the young, post-stroke care and uncommon causes of stroke. He has authored or coauthored more than 100 publications and has served as principal investigator and steering committee member for multiple global clinical trials. He is a fellow of the American Heart and Stroke Association and chair of the Northeast Cerebrovascular Consortium. Please welcome Dr. Nouh to the AUPN!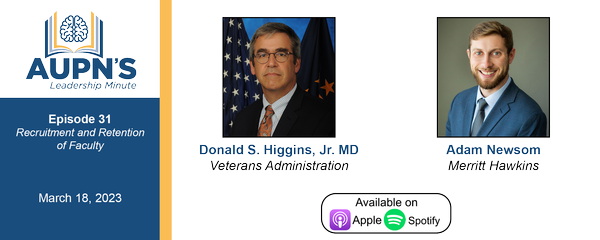 Leadership Minute
This month's AUPN Leadership Minute, introduced by Don Higgins (Univ. of Albany) and presented by Adam Newsom of Merritt Hawkins, a physician recruitment firm, reviews a never-ending concern of most chairs, "Recruitment and Retention of Faculty". Understanding the relationship between the recruitment and retention of faculty is vital to the growth and success of every neurology department. The well documented shortage of neurologists in the US makes having an effective program essential. Tune into this month's leadership minute for advice from an expert!

BBRF Young Investigator Grant
The Brain & Behavior Research Foundation is now accepting online applications for the 2023 BBRF Young Investigator Grant. This offers up to $35,000 a year for up to two years to pursue innovative ideas in neuroscience and psychiatric research. Junior faculty who have not received R01 funding and whose research involves psychiatric diagnoses are encouraged to apply here.
The request for applications for the 2023 BBRF Young Investigator (YI) Grant ends on Friday, March 31, 2023.

Register for AUPN Spring Programs!
New Chairs Round Table: Friday, May 5th, 2pm - 4pm CDT/3pm – 5pm EDT
The AUPN's Annual New Chairs Round Table will again be virtual this year. This is an opportunity for experienced mentor chairs (3+ years' experience) to meet with new(er) chairs (0-3 years' experience) and provide advice on how to manage their new role. The focus of the session will be to find out what the new chairs need, answer specific questions and inform them about AUPN resources and mentorship opportunities.
AUPN Spring Chairs Session: Friday, May 12th, 2pm - 4pm CDT/3pm – 5pm EDT
The topic for this year is "Navigating hospital partners and large healthcare systems." There are a wide variety of administrative and financial relationships between hospitals and their affiliated medical schools and departments. Hospitals may be owned by the university or only have a contractual relationship with the medical school. Neurology chairs must learn how to navigate these complex relationships. The session will be moderated by Jun Li (Houston Methodist). Speakers will include Gil Wolfe (SUNY Buffalo) who will discuss "How to negotiate with hospital partners that are not fully aligned with your academic missions?" Dane Chetkovich (Vanderbilt) will present "Strategies to expand clinical footprints through partnership with regional hospitals," and Matthew Fink (Weill Cornell) will explore "What does the hospital CEO think and want from chairs?"
Women Leaders in Neurology: Friday, May 19th, 2pm - 4pm CDT/3pm – 5pm EDT
This year's session, chaired by Claire Henchcliffe (Univ. of Callifornia, Irvine) and Alyssa Willis (Univ. of Mississippi), will focus on the challenges facing women developing as leaders in academic neurology. Invited speakers include Barbara Vickrey (Mount Sinai/Icahn) and Carlayne Jackson (Univ. of Texas San Antonio). The panel will describe their own paths and observations of successful women leaders, and discuss how to deal with microaggressions, when to take credit for success while promoting mentees, and how to develop resilience. Speakers will also identify formal and informal resources to support leadership development, whether on the "front lines", "middle lines" or in other roles.
ABPN Call for Directors
The American Board of Psychiatry and Neurology is seeking a new neurology director to join the board for a four-year term starting in January 2024, with the possibility of one-time renewal. Please click here for more information about the duties, responsibilities, and time commitment, plus a description of the ABPN's selection process. Please send application materials to DirectorNominee@abpn.com by May 31st, 2023.
Chairs - Please remember to pay your AUPN dues!
Until next month,
L. John Greenfield, Jr, MD PhD
AUPN President
AUPN encourages you to forward this newsletter to other faculty in your
department, or anyone else who might benefit from our programs.