Michael Jaffee Appointed Chair of Neurology at University of Florida
University of Florida neurologist Michael S. Jaffee, M.D., has been named chair of the University of Florida College of Medicine's Department of Neurology. Dr. Jaffee earned bachelor's degrees from the University of Pennsylvania in the biological basis of behavior and in health care systems from the Wharton School. He graduated from the University of Virginia School of Medicine in 1992 and completed a combined residency in neurology and psychiatry at the San Antonio Uniformed Services Health Education Consortium in 1998 and a fellowship in sleep medicine there in 2011. He is board certified in neurology, psychiatry, sleep medicine and brain injury medicine with additional certifications in behavioral neurology and neuropsychiatry.
His 21-year U.S. Air Force career included wartime service in 2006 as chief of the medical staff for the largest U.S. military hospital in Iraq and service as the neurology consultant to the Air Force surgeon general. He was one of five military doctors selected to serve on the original "Gray Team," which was sent into Afghanistan to report to the Joint Chiefs of Staff on nonvisible effects of blast exposure. The team's recommendations were adapted as military operational policy and have had a lasting impact on the modern treatment of concussion. He retired from the Air Force at the rank of colonel in 2013 and was appointed as an associate professor of neurology, psychiatry and neurobehavioral sciences at the University of Virginia, where he served as inaugural medical director of the Brain Injury and Sports Concussion Institute and director of the neurology sleep service.
In 2016, he moved to the University of Florida as the Bob Paul Family Professor of Neurology and Vice-Chair of Neurology. Dr. Jaffee is the founding director of UF's Brain Injury, Rehabilitation and Neuroresilience Center. His NIH R01 research funding is focused on developing multidisciplinary strategies for assessment and management of traumatic brain injury and the links between sleep and neurological disorders.
He succeeds Dr. Michael Okun, who has served as chair since 2015 and will remain on the faculty as executive director of the Norman Fixel Institute for Neurological Diseases at UF Health. Please welcome Dr. Jaffee to the AUPN!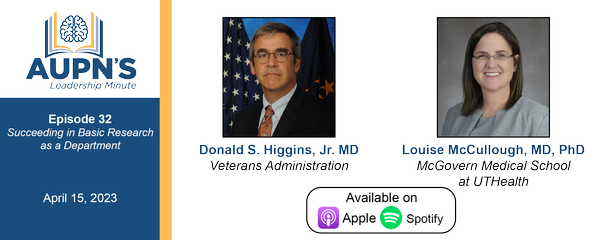 Leadership Minute
This month's AUPN Leadership Minute entitled "Succeeding in Research as a Department" is presented by Louise McCullough, MD, PhD (McGovern Medical School at Univ. of Texas Houston) and introduced by Don Higgins (Univ. of Albany). A major challenge in academic neurology departments is supporting basic and translational research. As clinical revenue becomes increasingly important to the financial health of Neurology Departments, supporting non-clinical activities such as teaching and research has become increasingly difficult. This is especially problematic for physician scientists, many of which require several years of both salary and research support. Dr. McCullough provides several ideas on how to grow the research enterprise in your own department.

Register for AUPN Spring Programs!
Our three Spring Seminars are just around the corner – please take a few minutes and register now:
New Chairs Round Table: Friday, May 5th | 2pm - 4pm CDT/3pm – 5pm EDT
The AUPN's Annual New Chairs Round Table will again be virtual this year. This is an opportunity for experienced mentor chairs (3+ years' experience) to meet with new(er) chairs (0-3 years' experience) and provide advice on how to manage their new role. The focus of the session will be to find out what the new chairs need, answer specific questions and inform them about AUPN resources and mentorship opportunities.
AUPN Spring Chairs Session: Friday, May 12th | 2pm - 4pm CDT/3pm – 5pm EDT
The topic for this year is "Navigating hospital partners and large healthcare systems." There are a wide variety of administrative and financial relationships between hospitals and their affiliated medical schools and departments. Hospitals may be owned by the university or only have a contractual relationship with the medical school. Neurology chairs must learn how to navigate these complex relationships. The session will be moderated by Jun Li (Houston Methodist). Speakers will include Gil Wolfe (SUNY Buffalo) who will discuss "How to negotiate with hospital partners that are not fully aligned with your academic missions?" Dane Chetkovich (Vanderbilt) will present "Strategies to expand clinical footprints through partnership with regional hospitals," and Matthew Fink (Weill Cornell) will explore "What does the hospital CEO think and want from chairs?"
Women Leaders in Neurology: Friday, May 19th | 2pm - 4pm CDT/3pm – 5pm EDT
This year's session, chaired by Claire Henchcliffe (Univ. of Callifornia, Irvine) and Alyssa Willis (Univ. of Mississippi), will focus on the challenges facing women developing as leaders in academic neurology. Invited speakers include Barbara Vickrey (Mount Sinai/Icahn) and Carlayne Jackson (Univ. of Texas San Antonio). The panel will describe their own paths and observations of successful women leaders, and discuss how to deal with microaggressions, when to take credit for success while promoting mentees, and how to develop resilience. Speakers will also identify formal and informal resources to support leadership development, whether on the "front lines", "middle lines" or in other roles.

ABC Call for Membership
The American Brain Coalition (ABC) is a nonprofit umbrella organization comprised of over 150 of the United States' leading professional neurological, psychological, and psychiatric associations and disease-focused organizations, as well as clinicians, researchers, academia, industry, and government agencies. ABC is a powerful voice for people with brain disorders, bringing together organizations that represent concerned patients, families, and professionals. The AUPN frequently joins in ABC-sponsored advisory letters advocating for increased awareness and understanding of neurological and psychiatric disorders and increased research and resources to improve patients' quality of life. The goal is to foster a national commitment toward cures for patients with brain disorders. Matthew Rizzo (Neurology Chair, Univ. of Nebraska) serves as ABC Board Chair and invites you and your colleagues/institution to apply to join the ABC.
ABPN Awards Program, Call for Exam Committee Members and Director
The American Board of Psychiatry and Neurology (ABPN), has announced that applications for two career development awards are now available. The ABPN is also seeking exam committee members and a new neurology director.
The 2024-2025 ABPN Faculty Innovation in Education Award supports the development of innovative education and/or evaluation projects that promote effective residency/fellowship training or lifelong learning of practicing psychiatrists and neurologists. Preference will be given to projects involving more than one site, first-time applicants and those at a junior or mid-faculty level. Up to two psychiatry and two neurology proposals will be selected. Each award is $50,000 per year for up to two years and may be used to cover salary, fringe benefits, and other costs. No indirect costs will be covered. Applications for the Faculty Innovation in Education Award are due August 1, 2023.
The 2024-2025 ABPN Dorthea Juul, PhD, Education Research Award supports research projects into novel programs that promote and assess the competency of psychiatry and neurology trainees for initial and continuing certification. Up to two psychiatry and two neurology awards are available at $100,000 per award over 2 years, which may cover salary, fringe benefits, and other costs. No indirect costs will be covered. The ABPN is particularly interested in research in the following areas:
Effect of initial or continuing certification on quality of patient care

Evaluation of innovative educational programs

Evaluation of innovative lifelong learning programs

Validity and reliability of state-of-the-art testing methods

Value of initial and continuing certification

Relationship of certification to training, clinical practice, and lifelong learning

Patient and public perceptions of board certification

Psychiatry and neurology workforce trends
Applications for the Dorthea Juul, PhD, Education Research Award are due August 8, 2023.
The ABPN is also seeking new members for exam committees in psychiatry, neurology, child neurology, and many subspecialties. Candidates should submit a CV and cover letter to committee@abpn.com that highlights your relevant expertise or experience including exam-question writing or other educational assessments. The ABPN emphasizes diversity in expertise, practice type and work setting, geographic distribution, sociodemographic characteristics and other lived experiences.
Lastly, ABPN is also seeking a new neurology director to join the Board for a four-year term starting in January 2024, with the possibility of one-time renewal. Please click here for more information about the duties, responsibilities, and time commitment. Application materials can be sent to DirectorNominee@abpn.com by May 31st, 2023.
Until next month,
L. John Greenfield, Jr, MD PhD
AUPN President
AUPN encourages you to forward this newsletter to other faculty in your
department, or anyone else who might benefit from our programs.