Jordan named Chair of Neurology at Louisiana State University
Please join me in welcoming to the AUPN Joseph "Dedrick" Jordan, MD, PhD, who has been appointed Chair of the Department of Neurology at LSU. After obtaining the MD and PhD degrees at Icahn School of Medicine at Mount Sinai, New York, Dr. Jordan completed neurology residency training and neurocritical care fellowship at Johns Hopkins University. He then joined the faculty of the University of North Carolina in Chapel Hill, rising to the rank of Associate Professor and serving as Director of Neurocritical Care. He subsequently moved to Duke University where he served as Professor of Neurology and Neurosurgery, Vice Chair of Strategy and Analytics and as Medical Director of the Neuroscience Clinical Service Unit. His research interests include artificial intelligence algorithms to assist clinical decision making and therapeutics in patients with acute neurological illness, and he has been funded by the National Institute of Neurological Disorders and Stroke (NINDS), National Institute on Drug Abuse (NIDA), Department of Defense (DOD), and pharmaceutical companies. He serves on the editorial boards of Neurocritical Care, World Journal of Critical Care Medicine and Frontiers in Neurology.
Dr. Jordan succeeds Dr. Roger Kelley who has retired. We congratulate Dr. Jordan and wish Dr. Kelley happiness in his well-earned retirement.
If you know of other new chair appointments, please email information to neuro@aupn.org.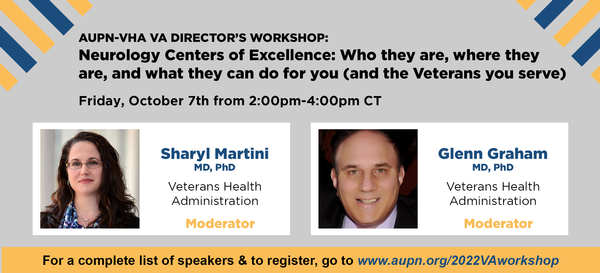 VA Directors' Workshop
Our second annual Virtual Workshop for VA Neurology Directors will be held on Friday, October 7 from 2pm - 4pm CT. This workshop will focus on "Neurology Centers of Excellence: What they can do for you and the Veterans you serve," hosted by Dr. Sharyl Martini (Baylor) and Dr. Glenn Graham, both affiliated with the Veterans Health Administration.Registration is free and all are welcome to attend!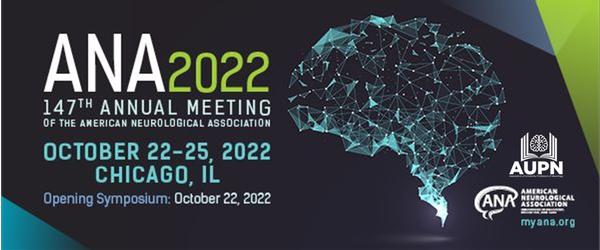 AUPN Fall Educational and Networking Programs
It's not to late to register for the American Neurological Association's Annual Meeting in Chicago, IL from October 22 – 25, 2022 at the Hyatt Regency Chicago.
We will host three career development sessions at the ANA meeting designed for Department Chairs:
Sunday, October 23: Governmental Advocacy for Neurology Departments

Monday October 24: Neuroscience Service Lines: What's the Best Model?

Tuesday , October 24: Chair Evaluations of Faculty.
The AUPN and ANA will jointly host the annual "Meet the Chairs" Interactive Workshop on Monday, October 24 from noon to 1 PM.
The AUPN will also host its Networking Lunch for Small Academic Departments on Tuesday, October 25 from 11am – 12:30pm.
Please see our AUPN website for further details.

ANA-AUPN Career Fair
Please sign up for the 5th Annual ANA-AUPN Career Fair on Sunday, October 23 at the ANA Meeting 6:30 pm – 8:30 pm CST. The Career Fair provides an opportunity for you discuss training and career opportunities at your institution with candidates at all levels Space is limited - click here to reserve your spot today! The first 20 registrations by individuals who are members of both the AUPN and ANA will be fully supported by the AUPN, and any additional registrants may receive a reduced display rate.
To date, 9 complimentary booths remain!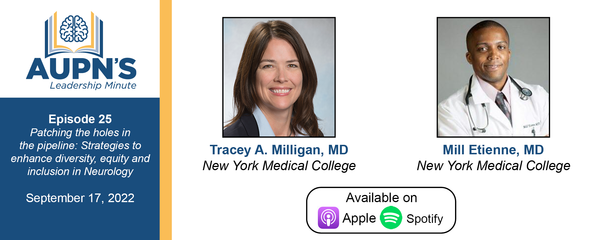 Leadership Minute
The new AUPN Leadership Minute for September, "Patching the holes in the pipeline: Strategies to enhance diversity, equity and inclusion in Neurology" provides new strategies to increase the number of diverse neurologists, optimize the success of diverse trainees, improve the delivery of neurological care to diverse and underserved communities, and enhance the diversity of participants in clinical trials. This timely and important topic is presented by Dr. Mill Etienne, Vice Chancellor for Diversity and Inclusion and Associate Dean of Student Affairs at New York Medical College. The session is introduced by Dr. Tracey Milligan, Professor and Chair of Neurology at New York Medical College.
What's in a Name?
You may have noticed that our monthly AUPN newsletter now has a name and banner logo. The Neuro Transmitter seemed like an obvious choice, and will continue to provide timely updates on all things AUPN. Thanks to our talented graphic artist, Bailey Kovac, who designed our AUPN logo and has again come through with a winning banner line for this column. Those of you who are up on your neurophysiology may recognize that the action potential in the logo was taken from one of the original Hodgkin and Huxley recordings of the squid giant axon, one of the most basic ways of transmitting information.
Until next month,
L. John Greenfield, Jr, MD PhD
AUPN President
AUPN encourages you to forward this newsletter to other faculty in your
department, or anyone else who might benefit from our programs.