French named Interim Chair at University of Missouri
Brandi French, MD, has been named the interim chair of the Department of Neurology at the University of Missouri in Columbia, MO. After graduating medical school at the University of Kansas, Dr. French went to the University of Missouri more than 20 years ago as a neurology resident and then joined the faculty, serving in multiple roles including Chief Resident, Vice Chair for Clinical Affairs, Medical Director of the Neurosciences Unit and the Missouri Stroke Program, and Program Director for the Vascular Neurology fellowship. She succeeds Dr. Pradeep Sahota, who retired effective May 31 after being chair for the past 21 years.
An accomplished researcher, Dr. French's academic interests include cerebrovascular disease, headache, neurological disorders, stroke, ultrasound and vascular imaging. She has published more than 60 papers, book chapters and abstracts on these topics.
We congratulate Dr. French and wish Dr. Sahota well in his next chapter of life.
If you know of other new chair appointments, please email information to neuro@aupn.org.
AUPN Leaders Appointed to UCNS Board
The United Council for Neurologic Subspecialties recently announced the election of three new officers and members of its Board of Directors, two of whom have leadership roles in the AUPN.
Dr. Lawrence Wechsler was elected to serve a two-year term as Chair of the Board of Directors. He has served on the UCNS Board since 2019 as a representative of the AUPN (which he currently serves as Secretary/Treasurer) and served as UCNS Treasurer in 2020-2021. He is the Chair of the University of Pennsylvania Health System Department of Neurology at Pennsylvania Hospital. He has been UCNS certified in Neuroimaging since 2015.
Dr. Salvador Cruz-Flores (Texas Tech University Health Sciences Center at El Paso) was elected to serve a two-year term in the officer role of Vice Chair of the UCNS Board. Dr. Cruz Flores also serves as a Councilor of the AUPN.
Please congratulate them on their new leadership roles.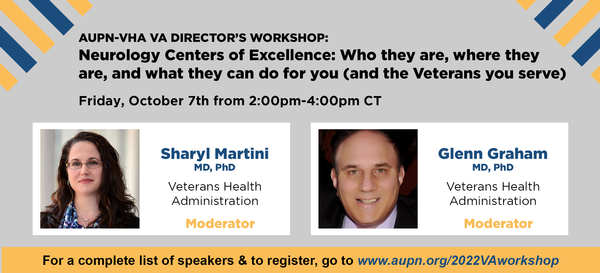 VA Directors' Workshop
We will host our Second Annual Virtual Workshop for VA Neurology Directors on Friday, October 7 from 2pm - 4pm CT. This workshop will focus on "Neurology Centers of Excellence: What they can do for you and the Veterans you serve." The session will describe the services offered by the VHA-funded Centers of Excellence (COEs) in Parkinson's Disease, Multiple Sclerosis, Epilepsy and Headache, followed by discussion about how the COE can better serve VA patients. The session will be hosted by Dr. Sharyl Martini (Baylor) and Dr. Glenn Graham, both affiliated with the Veterans Health Administration. Registration is free!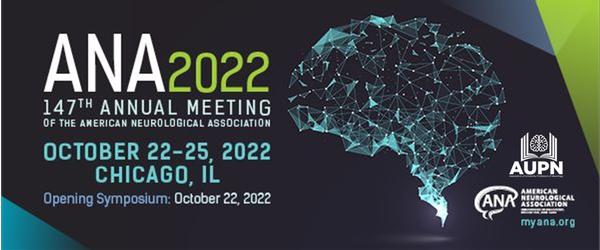 AUPN Fall Educational and Networking Programs
Don't forget to register for the American Neurological Association's Annual Meeting in Chicago, IL from October 22 – 25, 2022 at the Hyatt Regency Chicago. We will host three career development sessions designed for Department Chairs and others, as described in detail in last month's newsletter. Briefly, these include a session on Sunday morning (October 23) on Governmental Advocacy for Neurology Departments, a Monday morning session on Neuroscience Service Lines: What's the Best Model? and Tuesday morning's program on Chair Evaluations of Faculty. The AUPN and ANA will also jointly host the annual "Meet the Chairs" Interactive Workshop on Monday, October 24 from noon to 1 PM. Finally, the AUPN will host its Networking Lunch for Small Academic Departments on Tuesday, October 25 from 11am – 12:30pm.
Please see our AUPN website for further details.

ANA-AUPN Career Fair
Please sign up for an actual physical table at the 5th Annual ANA-AUPN Career Fair on Sunday, October 23 at the ANA Meeting 6:30 pm – 8:30 pm CST. The Career Fair provides an opportunity for you to meet with attendees and discuss training and career opportunities at your institution. Space is limited - click here to reserve your spot today!
AUPN is fully supporting the first 20 registrations from those who are members of both the AUPN and ANA. Any additional registrants may be entitled to a reduced display rate. To date, 12 complimentary booths remain!
Neurology/Neurosurgery Resident Boot Camp
The combined Neurology/Neurosurgery training program at Houston Methodist Hospital in Houston, TX, invites neurology or combined neurology/neurosurgery residents to attend The Houston Methodist Neurological Institute Resident Bootcamp, which will be held September 9-11. This program provides a variety of didactic and hands-on experiences for 2nd and 3rd year neurology residents and 3rd to 5th year neurosurgery residents, taught by world-class faculty in a state-of-the-art facility. The program will accept 20 neurology and 20 neurosurgery non-local residents (in addition to Houston-based residents) and will pay for accommodations and provide a travel stipend. Registration is required. For more information visit: https://attend.houstonmethodist.org/event/neuro-resident-bootcamp .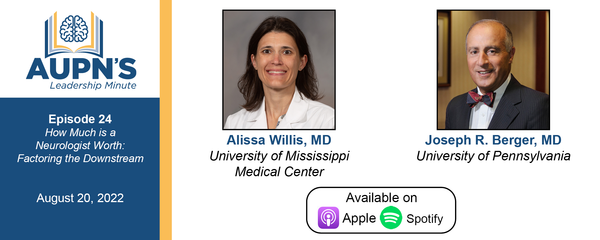 Leadership Minute
A new AUPN Leadership Minute has been posted for August 2022, entitled "How Much is a Neurologist Worth: Factoring the Downstream." This month's session was hosted by Dr. Alissa Willis (University of Mississippi) and features Dr. Joseph R. Berger, (University of Pennsylvania). Dr. Berger reports that neurologists are undervalued and that most departments are under severe financial stress. This does not account for the downstream revenues generated by tests and procedures such as infusions that bring in significant revenues to the host institution. This value is not appreciated when institutions focus exclusively on RVUs obtained from "E&M" visits and is all the more significant given the relatively low salaries for neurology faculty compared to our surgical colleagues. Chairs should keep in mind this "contribution margin" when negotiating resources from their hospitals and universities
L. John Greenfield, Jr, MD PhD
AUPN President
AUPN encourages you to forward this newsletter to other faculty in your
department, or anyone else who might benefit from our programs.