AUPN is excited to announce the release of our new website!
5841 Cedar Lake Rd., Suite 204
Minneapolis, MN 55416
(952) 545-6724
neuro@aupn.org
From the President of the AUPN
The New AUPN Website Is Here!
Dear AUPN Member:
We are excited to announce the release of our new website! The new site offers a fresh new look and easier navigation.
Our main goal in designing this site was to be more informative and user friendly to our members! Over the next few months, AUPN will be updating content and adding new features to make our site even more valuable to our members.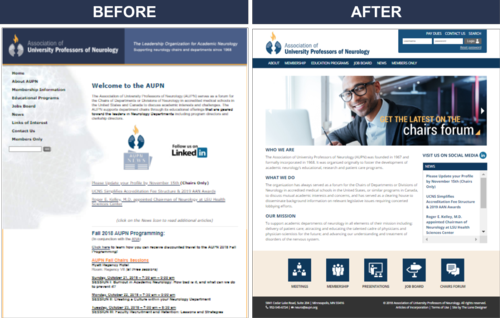 Feel free to look around! We're confident you'll find the information you're looking for very easily. If you have a question or would like to provide feedback, please email neuro@aupn.org. We look forward to continuing to work on improving the experience of our current and future members!
---
Please Update Your AUPN Profile (Chairs Only)
AUPN will soon begin our 2019 dues process. We would like to ensure all records are accurate for this process, and that all Chairs and Directors are receiving the most out of their institutional membership. Therefore, we ask that you please take 5 minutes of your time and update your profile by November 15th.
To update your profile: Go to www.aupn.org, click on Members Only and log into your account. If you have forgotten your username please email neuro@aupn.org. If you have forgotten your password, please reset it. Do not create a new profile.
**In addition, please complete this form by November 15th and remit to neuro@aupn.org. The Residency Program Director, Child Neurology Residency Program Director, Clerkship Director, and Research Program Director at your institution are covered by the AUPN annual dues and therefore are entitled to all AUPN benefits. This includes receiving the weekly Saturday emails. The AUPN Executive Office will update your institution's profile to ensure it is up to date.
Please email neuro@aupn.org with any questions or if you need assistance with updating your profile.
Thank you in advance for your cooperation.
---
Robin Brey, MD
AUPN President
---
The following organizations are seeking to fill the following leadership position
Albany Medical College: Chair, Department of Neurology
University of Pennsylvania: PAH Chair of Neurology
Rush University Medical Center: Chief of the Section of Neuromuscular Diseases
If you have a current job posting you would like listed on the AUPN website, please complete the Job Listing Form and submit it to the AUPN Executive Office at neuro@aupn.org.

To View Current Job Postings, click here
---
If you have news that you want to share with members of the
Association for University Professors of Neurology, please send it to us at neuro@aupn.org
To opt out of AUPN emails, contact the AUPN Executive Office at neuro@aupn.org
018 Association of University Professors of Neurology